RapidGrille Model 676
The Advanced Performance Security Grille offers excellent performance for commercial and industrial customers who have been searching for something sturdy, safe, high quality and low maintenance.
Every client's security grille needs are different, but this new product developed by Overhead Door can be useful for a wide variety of business, including parking garages, loading docks, performance venues, manufacturing facilities or retail businesses -- basically anywhere that a client needs to make a location secure but also wants a grilled that's safe yet simple, and easy to minimize when it's not needed.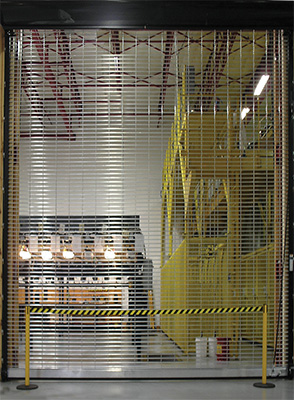 RapidGrille Model 676
Some of the state-of-the-art features of the new product include:
A spring-less design which can minimize the need for routine maintenance. Wear and tear from regular openings and closings can be commonly seen with spring-loaded grilles.
Exceptional safety features that include a built-in stop brake that prevents uncontrolled travel plus several sets of sensors plus a reverse motor, which can all prevent damage and entrapment.
A 2-year limited warranty on door components and a 5-year limited warranty on the motor.

High-quality construction which includes high-strength links, galvanized solid-steel rods, plus aluminum links and spacer tubes.
A high-cycle drive and gear system that's always smooth and doesn't jerk or jolt while the grille is in operation or when it begins or ends its cycle.
RapidGrille Model 676 customers can choose a straight lattice pattern or optional brick pattern, and can also select a complete steel curtain; a powder-coated curtain; or a grille which contains aluminum links and spacer tubes.
Grille controls and operation details can be found right at your fingertips, in the form of an interactive panel that displays info about the opening and closing cycle, a closing timer, plus any helpful system diagnostics.
Foeng Tjong, Overhead Door's commercial product manager for rolling products, said the Model 676 has been engineered to perform at high levels over long periods of time.
For more information, please give us a call at 973-471-4060 or email us at: info@dockndoor.com
You can read more about our security grilles here.
For 24 hour emergency service, please contact us at 800-362-6367.
We service Northern New Jersey (Bergen, Passaic, Hudson, Union, Essex, Morris, Hudson, Hunterdon, Middlesex, Mercer and Somerset county/counties), Manhattan, New York City, Brooklyn, Queens, Staten Island, Bronx, Westchester and Rockland.