The RapidGrille®​ Advanced Performance Security Grille provides facilities with visual access and maximized air movement while delivering better safety features than a standard security grille.
Every client's security grille needs are different, but this new product developed by Overhead Door can be useful for a wide variety of businesses, including parking garages, loading docks, performance venues, manufacturing facilities, or retail businesses -- basically anywhere that a client needs to make a location secure but also wants a grilled that's safe yet simple, and easy to minimize when it's not needed.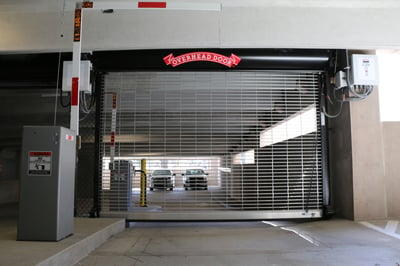 RapidGrille® - High-Speed/High-Performance Security Grille

RapidGrille®'s Main Features:
Some of the state-of-the-art features of the new product include:
✓ Max. Standard Width: 30'4" (9,246 mm) | Max. Standard Height: 14'4" (4,369 mm)

✓ Curtain: Galvanized steel links and solid rods with mill aluminum spacer tubes

✓ Curtain Pattern: Straight lattice 9" center vertical links with 2" center rod spacing

✓ Door Roll: Directly driven, springless steel tube roll with integral shafts, keyed on the drive end and supported by self-aligning grease-able sealed bearings

✓ Hood: 24 gauge black painted steel

✓ Guides: Three structural steel angles with PowderGuard® Premium finish with black powder coat

✓ Bottom Bar: Tubular extruded aluminum with mill finish​​​​​​​​​​​​​​​​​​​​​​

✓ Standard Mounting: Face of wall ​​

✓ Operation: Direct drive, integrated gear motor/brake assembly (up to 24" per sec up speed / 12" per sec down speed); drive assembly and limit sensors are factory pre-assembled. Manual hand chain for a power outage. Horsepower is appropriate to the size and weight of the door. 230V AC 3-phase motor (operating range 208-245V)

✓ Control Panel: NEMA 4X rated; variable frequency drive, self-diagnostics, built-in cycle counter, and timer to close​​​​​​​​​​​​​​​​​​​​​​​​

✓ Safety Devices: Built-in braking mechanism provides additional peace of mind against uncontrolled curtain travel.

✓ Wireless, Monitored Safety Edge - all doors are equipped with a mandatory reversing or sensing edge to prevent entrapment.

✓ Photoelectric Safety Sensors with Guards - provide additional safety during door operation to help prevent injury and damage.

✓ Limited Warranty - 60-month on motor; 24-month/300,000 cycles on door components​​​​​​​​​​​​​​​​​​​​​​​​​
RapidGrille Model 676 customers can choose a straight lattice pattern or optional brick pattern, and can also select a complete steel curtain; a powder-coated curtain; or a grille that contains aluminum links and spacer tubes.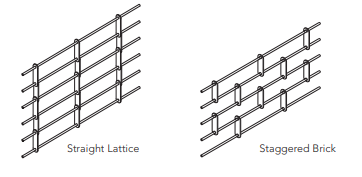 RapidGrille® Patterns
Grille controls and operation details can be found right at your fingertips, in the form of an interactive panel that displays info about the opening and closing cycle, a closing timer, and any helpful system diagnostics.
Foeng Tjong, Overhead Door's commercial product manager for rolling products, said the Model 676 has been engineered to perform at high levels over long periods of time.
For more information, please give us a call at 973-471-4060 or email us at: info@dockndoor.com
You can read more about our security grilles here and about high-performance overhead doors here.
For 24-hour emergency service, please contact us at 973-471-4060.
We service Northern New Jersey (Bergen, Passaic, Hudson, Union, Essex, Morris, Hudson, Hunterdon, Middlesex, Mercer and Somerset county/counties), Manhattan, New York City, Brooklyn, Queens, Staten Island, Bronx, Westchester, and Rockland.