ADVANCED SECTIONAL DOORS
Gallery description...
Thermacore® AP - Advanced Performance Commercial Doors
The Sectional Thermacore AP 850 Series is one of the finest Thermacore doors on the market today. Engineered to deliver advanced performance, this industrial door is ideal for situations where you need climate control, durability, strength and an easy to maintain system. This Thermacore door is a 3-inch-thick insulated sectional door that is rated one of the strongest and most thermally efficient doors on the market, offering the best insulation value per square inch.
This door system presents the most advanced thermal performance values published by any major US manufacturer of 3" commercial insulated sectional doors with an R-value* of 26, U-value** of .038 and a tested installed U-factor† of .14.
Additionally, the door is constructed with a dual-barrier that creates a virtually impenetrable path for air leakage and infiltration between door sections, and PVC thermal breaks that reduce heat and cold transfer from front to back of the sections.
Thermacore AP 850 Series Features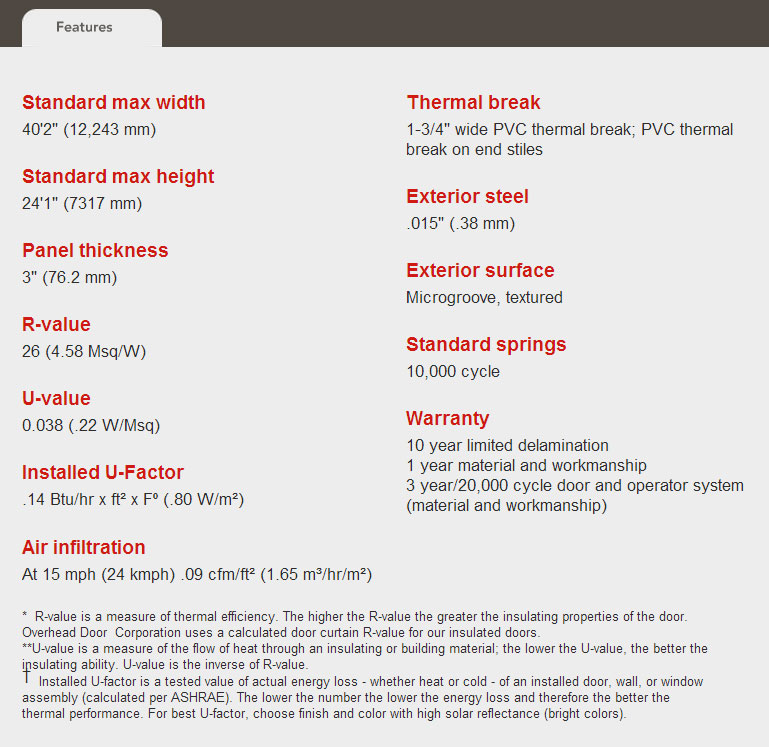 * The Sectional Thermacore AP 850 series is available in several basic colors, so you can choose the right one for your particular outdoor color scheme. Additional features are available on this door including high-cycle springs, high-usage components, electric commercial operators and other options. This level of design flexibility is one of the most popular features of the Thermacore doors.