Rollup Bug Screen Doors for Loading Docks
By installing one of the following Bug Screen Doors in your loading dock, you can improve the ventilation of your loading dock during spring/summer time while controlling pests such as birds, insects, or rodents.
Types of Bug Screen Door for your Loading Dock
- Roll-up Bug Screen Doors
- Portable Bug Screen Doors
- Sectional Doors with Bug Screens
- Sliding Bug Screen Doors
---



Types of Bug Screen Door for your Loading Dock
1. Roll-Up Bug Screen Doors
These screen doors are an ideal and economical solution for removing birds, insects, and other unwanted pests from your industrial facility. These screen doors increase energy efficiency. By allowing fresh air to enter your building, they create a more comfortable working environment. They also act as physical barriers deterring theft and unauthorized entry.
Roll-Up Bug Screen Door
2. Portable Bug Screen Doors
These doors are designed to be easily moved in and out of the opening, creating a nicer and comfortable work environment. They act as a physical barrier deterring burglary and unauthorized entry. Also allowing fresh air into your building, help you increase energy savings. These portable bug screen doors can be used in distribution centers, loading docks, and food manufacturing facilities.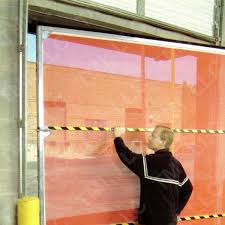 Portable Bug Screen Door
In sensitive food production and packing environments, Portable Framed Insect Displays promote a bug-free environment, helping you comply with FDA and AIB inspections and regulations.



3. Sectional Doors with Bug Screens
It is the typical sectional overhead door with screens instead of panels or windows that are appropriate in certain cases as they, in order to be installed, require special tracking conditions and clearance.
There is a product for every need. From the simple stand-in-place portable screen to automated roll-up screens, from very budget-friendly to designs with automation and efficiency in mind. As you can easily see, many possible solutions to allow ventilation at your facility are available while keeping insects, rodents, and birds out.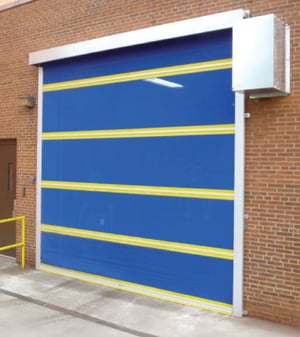 Sectional Door with Bug Screens Instead of Panels



4. Sliding Bug Screen Doors
Sliding Bug screens are an economical alternative to roll-up bug screens, as they do not require the space that is required to mount roll-up screen doors. Sliding Bug Screens require little to no maintenance, and can be installed quickly and efficiently. Ideal for insect and bird control at:
- Loading docks
- Distribution centers
- Warehouse openings
- Food processing locations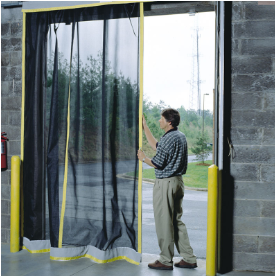 Sliding Bug Screen Door for Loading Docks
For more information about bug screen doors for your loading dock, please give us a call at 973-471-4060, email us at info@dockndoor.com.

For 24-hour emergency service, please contact us at 973-471-4060.
Service areas: Northern New Jersey (Bergen, Passaic, Hudson, Union, Essex, Morris, Hudson, Hunterdon, Middlesex, Mercer and Somerset county/counties), Manhattan, New York City, Brooklyn, Queens, Staten Island, Bronx, Westchester, and Rockland.

What we do: We sell, install, repair and maintain commercial and industrial overhead doors, operators, and loading dock equipment since 1981.