A vertical dock leveler is a perfect solution for facilities that must maintain strict temperature control. As these dock levelers are stored in the vertical position inside the building, the overhead doors can close completely to the pit floor, preventing energy loss, debris entry, and improved security while maintaining a clean, energy-efficient environment.
In this article, you will learn specifically about Vertical Storing Dock Leveler.
- Main Benefits
- How They Work
- Design Features
- Finish Options
- Available Upgrade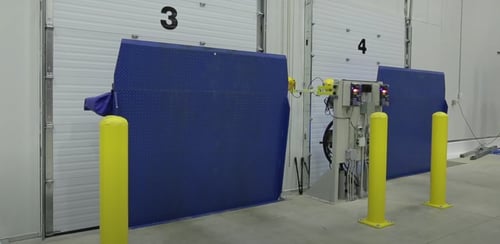 Vertical Dock Leveler
Benefits of Installing a Vertical Dock Leveler:
✓ Vertical storing dock levelers are more energy efficient because when they are in the stored position with the overhead door closed the chance of energy loss is minimized.

Dock seals

help reduce energy loss but cannot eliminate the gaps that surround the platform of conventional

pit levelers,

this concern is eliminated by choosing vertical storing dock levelers, helping maintain the environmental control of the facility.
✓ These reduce the risk of vermin entry which is very important in any food industry.
✓ Easily wash down and sanitize the pit floor to ensure the highest level of cleanliness.

✓ Powder coat finish will not rust or corrode, keeping the facility cleaner, and longer.


→ Application Benefits for Cold Storage Facilities:
✓ Maintain cold chain integrity during the loading and unloading process.
✓ Avoid exposure to the outside atmosphere while preserving climate control inside the facility.
✓ Eliminate internal temperature fluctuations.
✓ Ensure product quality from the arrival of raw materials to the shipping of finished goods.
---
How Vertical Storing Dock Levelers Work:
Vertically stored over-center, allowing the overhead door
to remain closed, providing a tight seal.


Trailer doors can remain closed and the truck driver does not
need to get out of the cab.



Dock attendant opens the trailer doors inside of the
building and lowers the leveler into position.


The loading and unloading process takes place like a
standard pit-mounted leveler.


Video: Blue Giant Vertical Dock Leveler in Action


---



Design Features:
✓ Load Usage: Up to 33,000 lb. (15,000 kg)
✓ Load Class: Heavy-Duty, Extreme-Duty

1. Reliability:
- Unique deck hinge design supports a smooth transition bridge between the dock and truck bed.
- Precision-based inclinometer to detect and communicate deck position.
- Enhanced protective cushioning safeguards the deck cylinder while the deck is being parked. Minimizing wear and tear to the facility floor.
- Sensor technology allows the lip to maintain constant contact with the truck bed.
- Deck will flex up to 4" (102 mm) when under load, to ensure full-width contact between the lip and the truck bed.
2. Performance & Efficiency
- EasyClean™ provides a streamlined frame layout with minimal obstructions, allowing for easier cleaning and maintenance.
- Double-acting hydraulic cylinders with full power control for deck and lip operations.
- NEMA4X control station for wash down sanitation, while maintaining full control.
- Maximize unit versatility with double-acting lip control for end-loading applications.
3. Quality:
- 8-10 enhanced J-beam channels are robotically welded to the underside of the deck at dynamic impact points to prevent distortion and extend the lifetime of the dock leveler.
- 5 rear deck-load support points ensure a distributed load with less wear and tear on the rear hinge, extending the product lifespan.
- Inverted deck cylinder is continually self-bleeding, reducing internal corrosion and increasing velocity fuse efficiency.
- 1HP (TENV) power pack with a separate manifold system for product longevity and serviceability.
- PowderCoat™ is an effective rust-proof solution that prolongs the life of dock equipment and helps maintain a sanitary environment.
4. Safety:
- High visibility yellow run-off guards are built for safety and allow wider access to the trailer entry.
- Integral safety stand keeps the deck securely upright during servicing.
- Built-in maintenance strut with lockout pin prevents leveler use during cleaning or maintenance.
- Non-adjustable hydraulic velocity fuse limits loaded platform free-fall to within 3" (76 mm).
- High visibility beveled toe guards with OSHA striping improves worker safety.
- Constant pressure touch button allows the dock attendant to safely control the deck at all times.
5. Engaged Solutions:
- The Blue Genius™ Gold Series I Touch Control Panel has flat-surface touch buttons and a keypad for easy management of all dock operations.
- LCD screen delivers operational, diagnostic, and troubleshooting messages in real-time.
- STOP button on the control station halts the dock in mid-travel during an emergency condition.
- LED red/yellow/green control station lights to send safety signals to dock personnel.
- The Blue Genius™ Platinum Series operates various combinations of loading dock equipment. A single control panel integrates all required functions, enabling the safe & simplified operation of any dock system from one central DESIGN location
6. Finish Options:
- Anti-slip powder coat
- Enriched zinc powder coat
- Hot-dipped galvanizing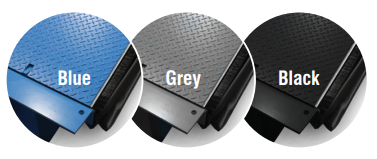 Available Upgrades:
Automatic or Manual
Light Communication Packages

Related products:
Hydraulic Dock Levelers | Mechanical Dock Levelers | Air-Powered Dock Levelers

For more information, please give us a call at 973-471-4060 or email us at info@loadingdock.com

We service Northern New Jersey (Bergen, Passaic, Hudson, Union, Essex, Morris, Hudson, Hunterdon, Middlesex, Mercer and Somerset county/counties), Manhattan, New York City, Brooklyn, Queens, Staten Island, Bronx, Westchester and Rockland.