DOCK LEVELERS & TRUCK LIFTS
Our dock levelers combine the highest quality design, materials and manufacturing to meet customer requirements and dock safety regulations. We provide to our customers safe and efficient loading dock equipment at an affordable price.
Learn the main differences between the different types of dock levelers:
1. Hydraulic Dock Levelers
2. Mechanical Dock Levelers
3. Air-Powered Dock Levelers
4. Vertical Dock Levelers
5. Edge-of-Dock Levelers: Hydraulic and Mechanical
6. Free Standing Frame Dock Levelers
7. Truck Levelers
---
1. Hydraulic Dock Levelers
Hydraulic dock levelers are designed and built to meet the demands of high-volume loading docks. Our hydraulic dock leveler will meet any of your dock equipment needs while providing low lifetime ownership costs and years of trouble-free service with the industry's best built-in safety.

Hydraulic Dock Leveler



2. Mechanical Dock Levelers
This mechanical dock levelers design allows fingertip release pull chain activation with smooth reliable operation via a cam and roller counterbalance to assure smooth dependable walk down to trailer bed with below dock capability included. The hold-down design floats with air ride trailers and the full-width rear compression hinge is designed for superior strength. Designed to meet your budget plus offer years of trouble-free service. It is made with safety, trouble-free service and your budget in mind.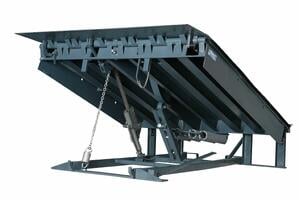 Mechanical Dock Leveler

3. Air-Powered Dock Levelers
For many applications, the air-powered dock leveler is an ideal solution, striking a solid balance between reliability and lifetime ownership costs. We offer air-powered dock levelers that are an economical alternative to hydraulic dock levelers, but are still operated with a push-button activation. The use of an air bag is used to raise and lower the deck. Air injection is done through a high volume, low pressure pump. Hydraulic fluids usually mess up operations, however, this does not occur with these levelers since air serves as the working fluid.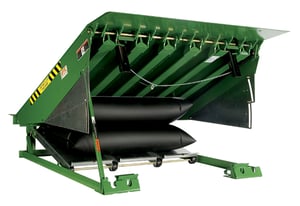 4. Vertical Dock Levelers
The vertical dock levelers are hydraulically operated and offer unmatched environmental control for customers with food storage or temperature sensitive applications. By storing in the vertical position, allows the overhead door to form a perfect seal.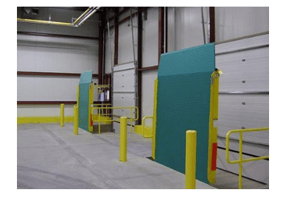 Vertical Dock Levelers (Hydraulic)
5. Edge-Of-Dock Levelers
The Top-of-Dock levelers (also known as Edge-of-Dock Levelers) are the industry standard for surface-mounted dock levelers and are by far the most popular choice of motor freight industry professionals when they are working at low docks. The initial cost is low. They're easy and safe to operate. Their rugged design requires little maintenance.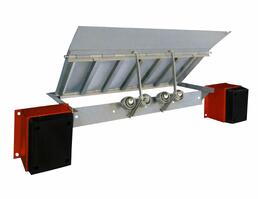 Edge-of-Dock Leveler

5.1 Hydraulic Edge-of-Dock Leveler
This hydraulic edge-of-dock levelers represent a low-cost hydraulically operated unit that bridges the gap between building and truck where a minimal variance exists between dock and truck with a recommended working range of +/-3" and a maximum operating range of +/-5" above and below dock level. A standard Nema 4 single pushbutton control provides easy activation of deck and lip. It has a dependable operation via a two-cylinder design with deck and lip cylinders.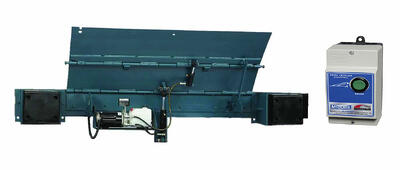 Hydraulic Edge-of-Dock Leveler


5.2 Mechanical Edge-of-Dock Lift-Free Leveler
These are low-cost units meant for a captive fleet of trucks with a similar bed height. They normally mount to the face of the dock and can be placed in a small recessed pit. This is a light-duty low-cost alternative to the in-pit-style full-size dock leveler. Also used when a pit cannot be utilized or as a retrofit. It is typically used in an environment with minimal difference between trailer bed and dock and the unit is typically mounted to the dock face.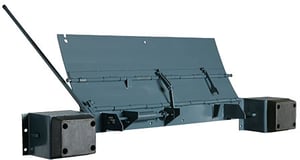 Mechanical Edge-of-Dock Leveler

6. Free-Standing Frame Dock Levelers
Conforms to all pit-style dock leveler proportions. With dock bumpers and guard rails for added safety. These free-standing frame dock levelers can be used with any type of dock levelers: hydraulic, air-powered and mechanical.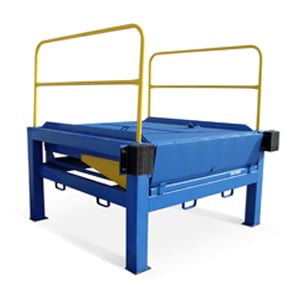 Free-Standing Frame Dock Leveler

7. Truck Levelers
Today's new wider, longer and lower trailers often don't reach standard dock level. Our hydraulic truck levelers make loading and unloading these trailers safe and easy, eliminating the loading hazards you find with other dock leveling equipment.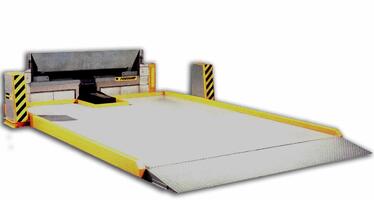 ---

Contact Us
Not sure which dock leveler will work for you? Contact our experts. We've been serving customers for 40+ years in NYC and NJ area.
For more information, please give us a call at 973-471-4060 or email us at info@dockndoor.com
For 24 hour emergency service, please contact us at 973-471-4060.
We service Northern New Jersey (Bergen, Passaic, Hudson, Union, Essex, Morris, Hudson, Hunterdon, Middlesex, Mercer and Somerset county/counties), Manhattan, New York City, Brooklyn, Queens, Staten Island, Bronx, Westchester and Rockland.