HYDRAULIC GARAGE DOORS


At Overhead Door Company of The Meadowlands & NYC we offer custom-build, lasting hydraulic garage doors for a variety of industries. We use a very well recognized manufacturer worldwide, Schweiss Doors, to make sure our customers needs and expectations are met.
Schweiss hydraulic doors use a custom power pump, robust hinges, a heavy-duty cylinder design, and added safety features for a smooth open and a strong hold you can trust.
These type of doors are known for their reliability, strength, and low maintenance costs.
Hydraulic Garage Door Types:




Retail Hydraulic Garage Doors
Ideal for shops, malls. A retail hydraulic door provides style, function and an attractive entrance to any business.



Hydraulic Garage Doors for Bars and Restaurants
Hydraulic doors can be a great option for bars and restaurants as well. A hydraulic door opens your door quickly with the push of a button.


Hydraulic Garage Doors for Hangars
Hydraulic doors are perfect for aircraft hangars (small or large). Since they extend to full height when opened, they provide optimal space to fit any aircraft. They open and close fast for ease of access when you need it, and strong steel frames ensure your aircraft will be kept safe.


Hydraulic and Bifold Garage Doors for Stadiums
Hydraulic Doors and Canopy Type Bifold Garage Doors makes a great impression at any stadium, arena, or amphitheater. From entryways to shop and restaurant openings, the hydraulic door(s) can be customized to whatever height and length requirements you need.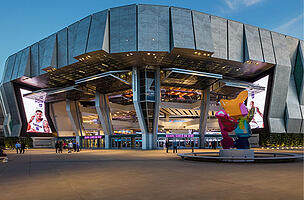 If you're hesitant about installing a hydraulic door, you could also consider installing a Canopy Type Bifold Garage Door in your facility.
Contact a member of our team who can help you make the best decision based on your needs.