When you're designing your space in your new coffee shop, smoothie shop, your restaurant, or a bar, lighting is one of the most important factors to keep in mind. We ought to take advantage of natural daylight, as it is not only a bright way to light up your establishment--it's also free! Use this to your benefit by installing tall windows, commercial glass doors or bifold doors, and skylights, if you're able to.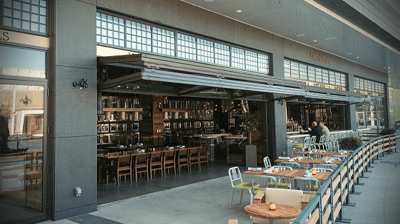 Canopy Type Bifold Door in a Restaurant
To best use natural light, you need to understand the natural light patterns that your restaurant experiences throughout the day due to the movement of the sun. Patrons who are seated facing east or west will be affected the most by direct sunlight, so make sure to install curtains or blinds on your windows to help keep the sun out of your customers eyes.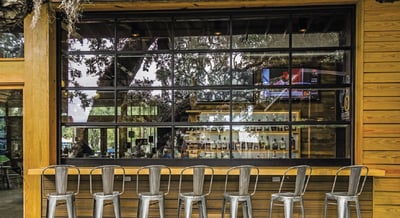 Aluminum Glass Overhead Door/Window Installed in a Bar
Benefits of Installing a Commercial Glass Door in an Establishment:
Learn the main benefits of installing an aluminum glass door or a glass bifold door in a restaurant, bar, coffee shop, or smoothie bar:
- Bright lighting and natural lighting allows customers to feel awake and alert. It is good for high-energy establishments like smoothie shops, cafes, or restaurants during their breakfast and lunchtime services.
- By taking advantage of natural light, you can save even more energy and costs.
- By properly setting the mood, lights influence customers to enjoy a lengthy breakfast or lunch experience, which will hopefully lead to a larger order, too. The longer customers spend in an establishment, the more likely they are to spend more money.
A well designed interior will improve the quality of your business, increase productivity and make staff and customers happier.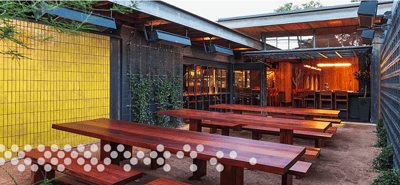 Canopy Type Bifold Door in Restaurant/Bar
At Overhead Door Company of the Meadowlands & NYC, we have installed hundreds of commercial glass doors and glass bifold doors in coffee shops, restaurants, hotels, and bars.

Commercial Glass Doors Photo Gallery:
These are just some of the installations that we've done in NYC & NJ area: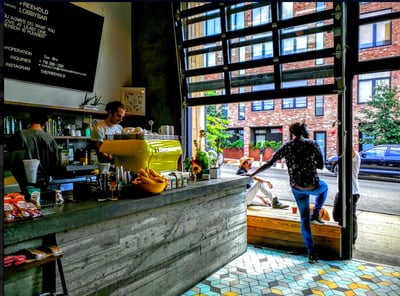 Aluminum Glass Overhead Door Installation in Brooklyn, NY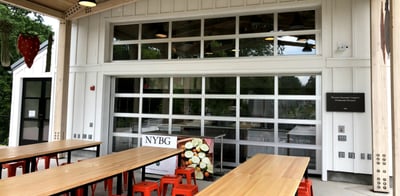 NYC Botanical Gardens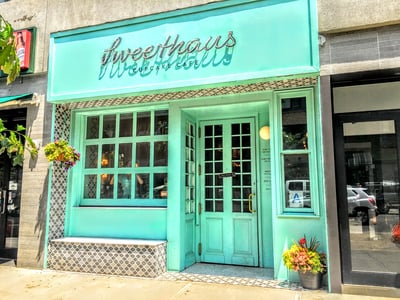 Cupcake Shop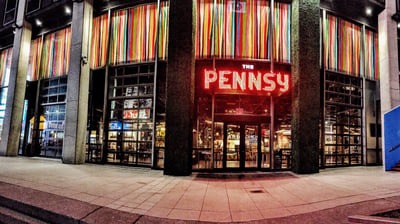 The Pennsy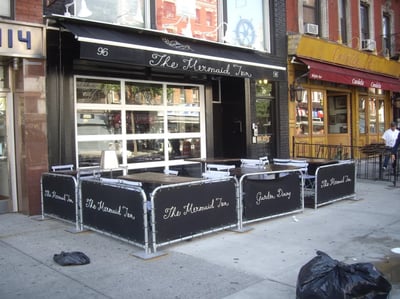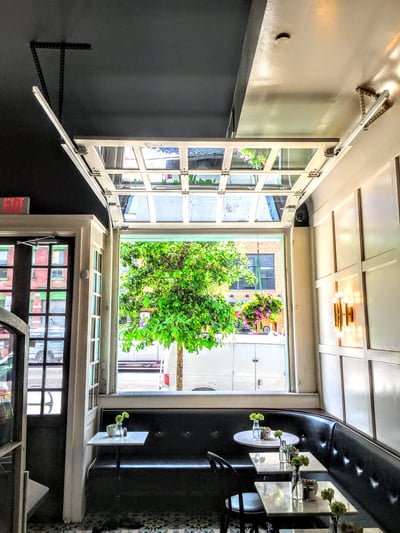 Sweethaus - Glass Overhead Door with Wood Frame
If you're not sure where to start, contact us. Our team can help you create almost any commercial door to fit your needs. We've been serving NJ and NYC Metro area since 1982.
Call 973-471-4060 or email us at info@dockndoor.com.