If you are seeking to maximize the efficiency and usefulness of your loading dock, you have a number of great products you can put to use. However, choosing the right dock leveler is one of the most important decisions you will make.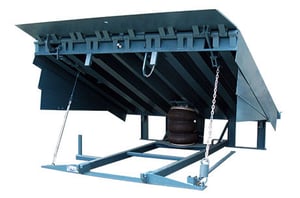 Air-Powered Dock Leveler
When you are considering the type of dock leveler you desire, the highly experienced staff at Overhead Door Company of the Meadowlands and NYC will get you the information you need. Our experts will guide you in evaluating the pros and cons of three basic types of dock levelers, including:
✓ Hydraulic Dock Levelers
✓ Mechanical Dock Levelers
✓ Air-powered Dock Levelers
For many applications, the air-powered dock leveler is an ideal solution, striking a solid balance between reliability and lifetime ownership costs. When you choose one of the two excellent versions of air-powered lifts designed by McGuire, you get the best solutions offered by an industry-leading manufacturer. These units include the:
MA Air-Powered Dock Leveler: This series of push-button pneumatic lifts provides you with the strength and reliability you need for light-to-medium applications, as well as some heavy-duty needs. With full attention to safety and durability, these lifts are available mounted in pre-formed pits and come in multiple sizes and specifications.
CentraAir® Air-Powered Dock Leveler

: This innovative air-powered dock leveler allows you to incorporate the use of your common plant air, as well as providing industrial automotive-grade air bellows designed to lower or raise the leveling platform. This achieves simple, push-button operations as well as easy servicing and cleanout.
Once you understand your options for air-powered dock levelers, our team of factory-trained personnel will ensure a precise installation. Also, our turnkey service will ensure you have years of reliable and hassle-free service from your cost-effective air-powered dock leveler.
Related products:
Hydraulic Dock Levelers | Mechanical Dock Levelers | Vertical Dock Levelers
For more information, please give us a call at 973-471-4060 or email us at info@loadingdock.com
We service Northern New Jersey (Bergen, Passaic, Hudson, Union, Essex, Morris, Hudson, Hunterdon, Middlesex, Mercer and Somerset county/counties), Manhattan, New York City, Brooklyn, Queens, Staten Island, Bronx, Westchester and Rockland.