SMOKE CURTAINS FOR ELEVATOR DOORS
Automatic Smoke Curtain for Elevator Doors
System is tested according to UL 1784 • Control unit is tested according to UL 864

Reliable and tested smoke protection in the event of an emergency, our automatic rolling smoke curtains are also used in elevators. They act as a guard to limit the penetration of smoke.
Benefits:
Invisible integration in sophisticated designs for elevator lounges and lobby areas

Reliable and tested smoke protection in the event of an emergency

Elevator curtains allow for egress and access after the system is activated

No interference with elevator door operations

Drive unit with fail-safe technology allows closing without auxiliary power

These fabric flexible curtains take little head room and structrual support

The elevator roller fabric shutters are designed to be hidden and out of sight when in the up position.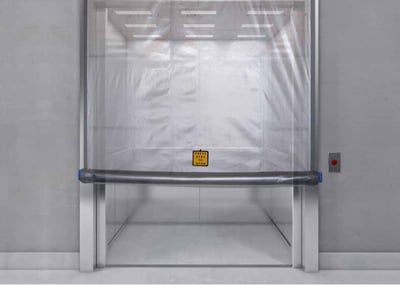 Smoke Curtain GX for Elevator Doors
System is tested according to UL 1784 and regulated in the IBC
If you would like to find out more information about other fire curtains, fire-rated doors or you would like to schedule either preventive maintenance or an annual inspection and testing, please contact us. It will be a pleasure to assist you.
Call at 973-471-4060 or email us at: info@loadingdock.com
24 HR Emergency Service for our Existing Customers at 973-471-4060
We service Northern New Jersey (Bergen, Passaic, Hudson, Union, Essex, Morris, Hudson, Hunterdon, Middlesex, Mercer and Somerset county/counties), Manhattan, New York City, Brooklyn, Queens, Staten Island, Bronx, Westchester, and Rockland.