"LHD" SERIES - HYDRAULIC DOCK LEVELERS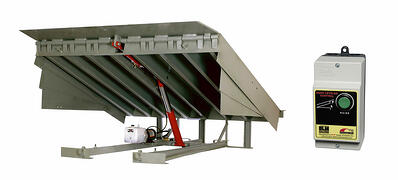 The LHD Series leveler combines cost-effective hydraulic technology with our efficient deck and frame design to produce a reliable, price sensitive hydraulic dock leveler.
The structure of the LHD incorporates box construction deck with an efficient deck and frame design.
LHD levelers have improved safety features and save valuable time in operation and maintenance.
LHD Series levelers come in 6', 6'6", & 7' standard widths and 6' & 8'standard lengths. Other lengths may be available upon request. Standard capacities for the LHP Series are 25K, 35K, 40K, CIR (Comparative Industry Rating).

FEATURES:
Simple push button control

Four sided box construction

Efficient deck and frame design

Full hydraulic lip activation

Velocity safety stop

Lockout/tagout maintenance strut

Night locks/cross traffic support

Motor overload protection

Low maintenance design

Full range toe guards

Two (2) DB-13 molded rubber bumpers