It is always great to find high-performance commercial doors that meet your requirements for security, durability, and high performance. It is a special pleasure to add speed and high cycle rates to those performance criteria.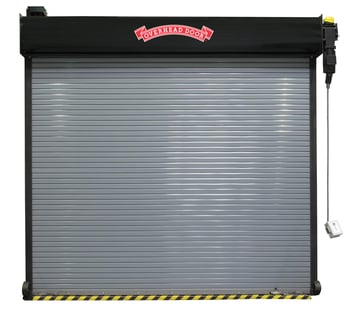 RapidSlat® Advanced Service Door | High-Performance Rolling Door
Overhead Door takes pleasure in introducing RapidSlat® Advanced Service Doors as a door solution that is safe, rugged, and easy to operate. Its enhanced functionality provides both the security you need and the convenience you appreciate. By eliminating the need for a second door, RapidSlat allows you to enjoy both advantages in one high-quality door.
Three series, the 611, 621, and 626, give you width and height options of up to 20 feet and come with a 5-year limited warranty. The 2-year or 300,000 cycle limited warranty coverage on components adds to your protection. And where needed, the 626 Series offers an insulation option of up to 7.71 R-value.

The creative combination of a high-performance door with the rolling steel door provides a solution that many will appreciate for multiple applications. The faster opening speed allows for increased productivity while saving on energy costs.
The many advantages of the RapidSlat® High-Performance Doors come from an innovative combination of several unique features. These include:
Direct Drive Motor. With a standard gearbox design, specially designed gear teeth serve to spread drive and shock loads over a greater tooth contact area. This provides greater durability and lowers your commercial door maintenance needs.
Interior Hood Assembly. Carefully designed to protect all components from dirt and debris. Also, it adds to the door's overall appearance.
Safety Features. Both a built-in variable frequency drive and a self-monitoring sensing edge add safety and reduce wear on the door and components. Additionally, with the elite C-channel photocells and a unique brake system, you have full functionality with maximum security.
When it comes to eliminating that extra door without compromising security or convenience, RapidSlat® Advanced Service Doors are your only effective option.
You can read more about our high-performance overhead doors here.