Purchasing an industrial overhead door for your facility can be an overwhelming task, as there are several factors that must be considered such as:
1. Functionality 2. Safety/Security 3. Quality/Value
---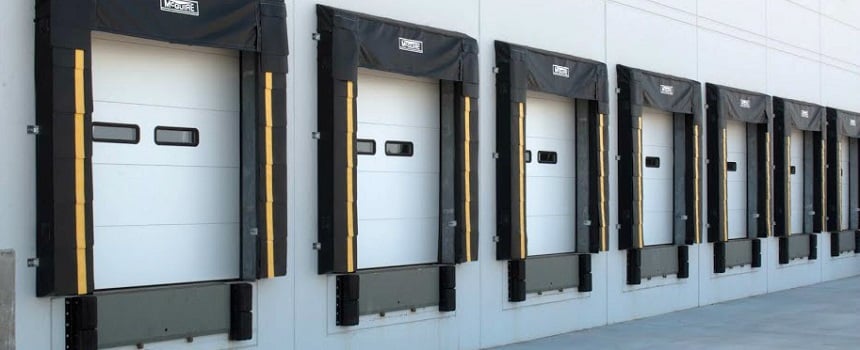 Insulated & Non-Insulated Sectional Overhead Doors

1. Functionality:
1.1 Model and Size
For the overhead doors, the model and size are the first criteria to be considered.
The architect can choose from an already existing door or can ask for a custom-made door. Although overhead doors can be made in different sizes, there are limits on the doors' sizes mainly because of their weight. Oversized doors (40+ feet wide) are available, these may become too heavy, slow, and unwieldy for many applications.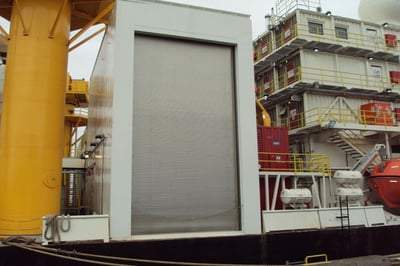 Oversized Commercial & Industrial Overhead Doors

1.2 Design
Although industrial overhead doors are usually not seen by the general public, it may be important in some specific applications that doors are aesthetically pleasing. Still, architects will want doors that fit well on the facility. Some of the characteristics that an architect must keep in mind are:
✓ Desired Light Infiltration:
Some facilities will require maximum visibility and call for clear-panel doors made of tempered glass, or other transparent materials. Some other facilities may want complete privacy/security and use doors with no lites/windows at all.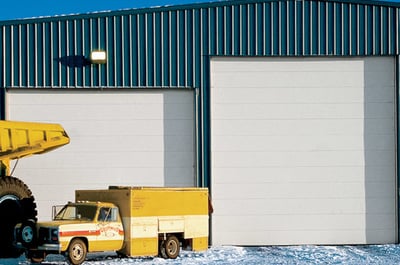 Sectional Overhead Door with No Windows (Thermacore Sectional Door 599 Wide)
✓ Overhead Door Color:
Fancy hardware is usually not used in industrial settings, however, some industrial settings have public functions or may be visible to the public. In those cases, the architect may want to make sure that the industrial doors that are selected work well with the building's aesthetic.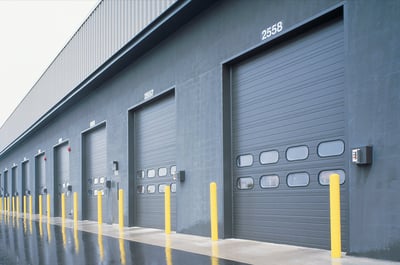 Insulated Sectional Overhead Door (Thermacore Door 592 Wide)
✓ Operation:
When choosing the overhead door, it is important to keep in mind how often the industrial overhead door is going to be used as well as the speed that is needed in some specific cases.
→ Some facilities may open the door early in the morning and close it at night.
→ Some facilities need to open and close the overhead door several times per day.
→ Some facilities operate around the clock (24hrs).
→ Some facilities will use the overhead door infrequently and will remain closed most of the time.
→ Some facilities may need a high-speed door to make sure that it opens and closes rapidly for environmental or safety reasons.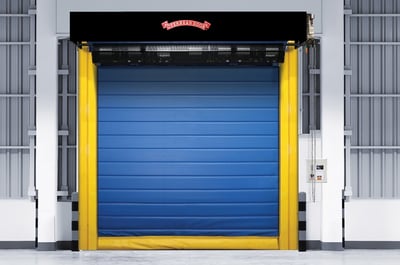 High-Speed Fabric Door (High-Speed Freezer Cooler 997 Wide)
✓ Environment:
Due to the environmental challenges, many industries may need an overhead door that has special characteristics such as:
→ Climate Control:
Heavily insulated overhead doors are required when applications involve refrigeration, as well as facilities that have substantially different internal and external temperatures. At Overhead Door Company of The Meadowlands & NYC, we insulated overhead doors that provide an R-value of 26, which are perfect for:
- Agricultural buildings
- Food and beverage storage facilities
- Pharmaceutical plants
- Other heavy-duty applications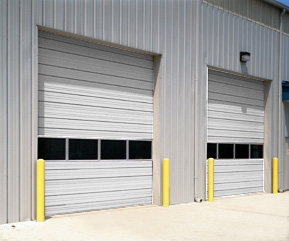 Sectional Steel Insulated Overhead Door 432 Series

→ Weather and Wind:
Some applications may call for high-wind pressure overhead doors and/or doors that are sealed tightly against water and air infiltration.
To support their high performance, these types of doors require flexible weather seals and thermal breaks.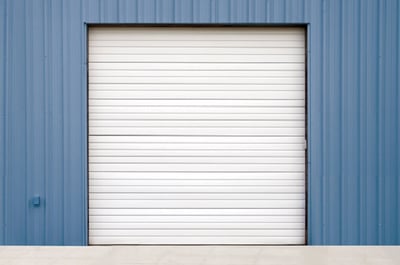 Non-Insulated Wind Load Sectional Door 421 Series
→ Sound Attenuation:
In order to attenuate sounds entering or leaving the applications, doors may require heavy insulation to diminish the sounds entering or leaving the application. It is most common in mixed-use developments.


2. Safety / Security
It is of utmost importance to create a safe working area for the workers. Most industrial applications strive for zero tolerance of unsafe conditions as well as aiming for physical security in the work locations. In order to reach these goals, companies for both, safety and security, with extreme care. Some of the factors that are usually considered are:

Security meaning in this context is:
✓ Only personnel authorized can operate the overhead doors.
✓ Video monitoring is also required for a secured communication network so that the door at all times can be observed and controlled.
✓ Control of the vehicles entering or exiting (through a high-security protocol)
✓ Trigger floodlight and/or alarms.
✓ There must exist an automated record of all movements of all doors.
✓ There must be a central security control that locks down all doors.
✓ In order to prevent code stealing when the doors are locally managed with remote controls, the units should be equipped with rolling code technology, so every time the remote is operated, a new code will be used. Tightly controlled for remote openers must be used in high-security situations.
✓ Pressure sensors, electric eyes, and emergency-release mechanisms are items that all power-operated doors should be equipped with as part of the safety equipment.
✓ It is recommended that once a month door safety should be tested so as to be sure that closing doors automatically reverse when they hit obstacles.
✓ Trained personnel must regularly maintain and keep the doors in good shape.
3. Quality/Value
One of the most common mistakes is to try to save money by using inferior quality industrial overhead doors as the door will be compromised in its lifetime, and it will require maintenance and repairs more frequently to keep it working.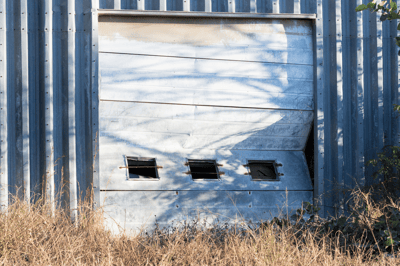 Avoid Using Inferior Quality
To be sure that the door provides the thermal and sound diminish characteristics, managers must have a clear preventive maintenance plan for their industrial overhead doors.
If a door is for rough use, the best materials to be used are heavy gauge steel and aluminum, as they live for a long time and they can also be painted or powder coating. On the contrary, wood overhead doors are usually avoided for industrial settings except for breweries or facilities that have a public component.

We highly recommend contacting us when renovating an industrial facility or designing one, as there is an enormous variety of choices and our experts will give you the best solution for your requirements.

It will be our pleasure to assist you when looking for a new industrial overhead door. Call 973-471-4060 or email us at info@dockndoor.com
We've been serving the NYC Metro area and NJ area for 40+ years.