PHOTO GALLERY
HIGH-SPEED DOORS,
HIGH-SPEED FABRIC/RUBBER DOORS &
HIGH-SPEED PARKING GARAGE DOORS
If you want to learn more about our wide selection of high-speed doors (also known as fast-rolling doors) contact us at 973-471-4060 | info@loadingdock.com. Our team of experts is looking forward to assisting you.
Click here to go back to our main photo gallery.
Click here to learn more about our high-speed doors.
m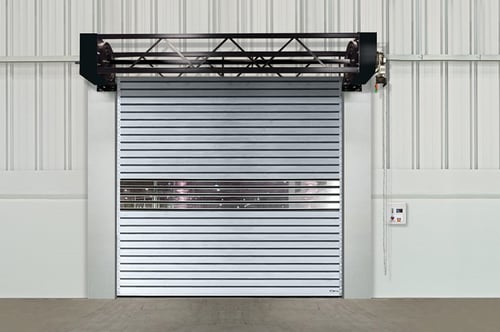 Metal High-Performance/High-Speed Door
High-Speed Doors are Ideal for Auto Dealerships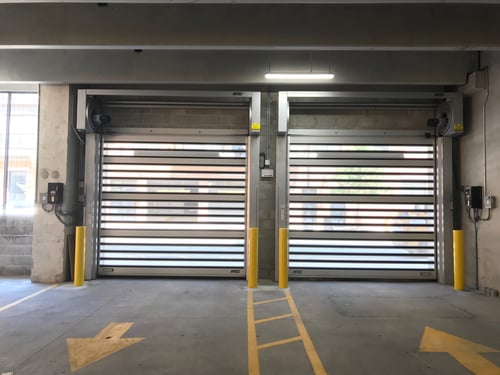 Metal High-Performance/Fast-Rolling Doors in a Parking Garage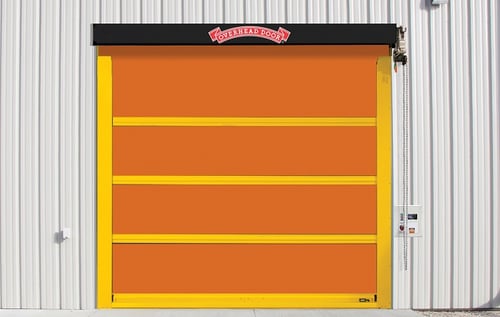 Fabric & Rubber High-Performance/High-Speed Doors in Healthcare Facility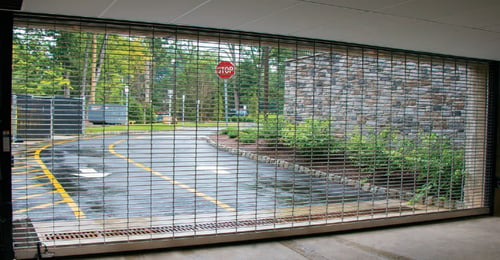 High-Speed Security Grille Installed in a Parking Garage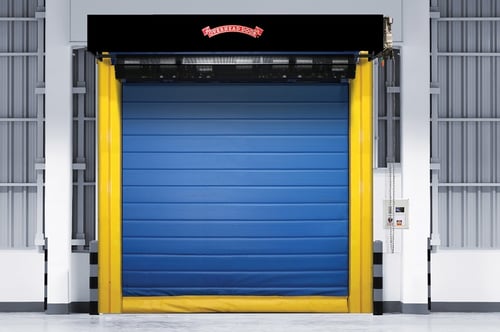 Fabric High-Speed Door for Cold Storage Facility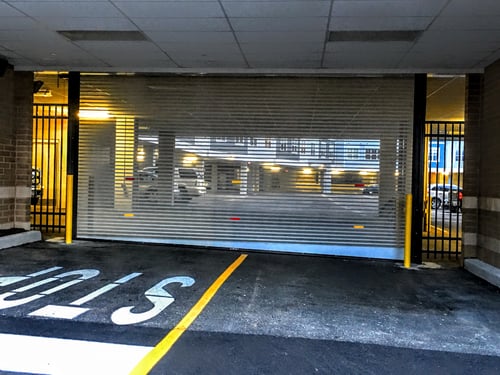 High-Speed Roll-Up Door Installed in a Parking Garage
High-Speed & High-Performance Doors
Every business has different needs and expectations when it comes to roll-up doors.

Some businesses need high-speed roll-up doors for security reasons, such as the parking garage doors, others may require a temperature-resistant overhead door that opens and closes as fast as possible to keep the proper temperature inside their facilities, reducing heating or cooling loss and preventing airflow, which can damage certain merchandise.

At Overhead Door Company of The Meadowlands & NYC, we offer a wide variety of high-speed rolling up doors (also known as fast-speed doors) and, high-performance roll-up doors that will offer the safety you need for high-traffic situations, including the fastest high-speed roll-up doors in the world.
High-speed metal, fabric, or rubber doors are a great solution for the following industries:
✓ Food and beverage manufacturers
✓ Transportation facilities
✓ Healthcare & pharmaceutical labs
✓ Residential buildings
✓ Waste facilities
✓ Auto dealerships
✓ Cold storage facilities
---
Commercial & Industrial Overhead Door Repairs
Contact our team for all your commercial or industrial overhead door repairs. We service & replace all manufacturers, brands, and models of commercial and industrial overhead doors and commercial door operators.
24-hr emergency repairs are available for our existing customers at 973-471-4060.
---


​Preventive Maintenance Plans for Commercial & Industrial Doors
You should have your commercial overhead door and your industrial overhead door serviced at least once a year if no other issues arise. At Overhead Door Company of the Meadowlands & NYC, we can create an adequate commercial and industrial door maintenance plan. It will prolong the life of your overhead door while it helps you avoid costly emergency repairs and replacements.
We've been selling, installing, and repairing commercial overhead doors, industrial overhead doors, operators, and loading dock equipment in NYC and NJ areas for 40+years.