When it comes to refrigerated, dry and frozen food applications, there is no room for compromise. It is imperative to install the proper high-speed door for your warehouse with cold storage.
The key to effective cold chain logistics is control at every point, from the environment to traffic to total costs. Overhead Door Company has applied its expertise to the design and construction of the finest refrigerated rolling doors and overhead doors for cold storage applications. The fabric insulated rolling doors that we offer are designed to provide quality without compromise and long-term, reliable usage.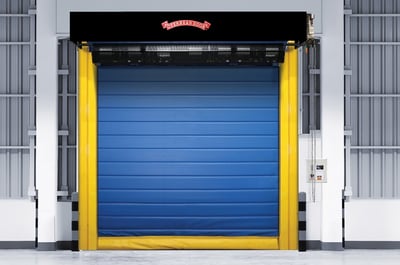 RapidFreeze® 997 - High Speed Insulated Roll-up Door
Overhead Door Company took the lead more than three decades ago when it introduced their first high-speed rolling door for use in the cold storage industry. Since then, new products and innovations, such as the RapidFreeze® 997 door, have maintained that leadership.
High-Speed Freezer Door: RapidFreeze® 997
Whether you need a high-speed rolling door for a warehouse, food preparation or storage, or any other cold application, we can help you find the model that meets your needs and budget.
Of course, the team at Overhead Door Company of Meadowlands and NYC understands the importance of maintaining the quality you expect with overhead refrigerated doors. We ensure the right door is installed the right way for maximum performance. Our expert installers are factory-trained to deliver the performance designed into the cold storage rolling doors you select. You will also find our 24/7/365 maintenance provides that additional level of security and protection your inventory demands.
For 24 hour emergency service, please contact us at 973-471-4060.
We service Northern New Jersey (Bergen, Passaic, Hudson, Union, Essex, Morris, Hudson, Hunterdon, Middlesex, Mercer and Somerset county/counties), Manhattan, New York City, Brooklyn, Queens, Staten Island, Bronx, Westchester and Rockland.