FABRIC & RUBBER HIGH-SPEED INSULATED DOORS
Our high-performance doors are as fast, reliable and versatile.
At Overhead Door Company of the Meadowlands & NYC we offer both fabric high-speed doors (RapidFlex®, RapidFreeze®) and metal high-speed doors (RapidShield® & RapidView®). These are engineered to allow maximum productivity with their high-cycle performance and resistance to damage from accidental collisions. Thanks to their safety features and a pressure resistant designs, these high speed/high performance doors will keep your facility running securely, efficiently and environmentally controlled.
Table of Content:
1. Interior Fabric High-Speed Doors
2. Exterior Fabric High-Speed Doors
3. Rubber High-Speed Doors (for extreme heavy-duty applications)
4. Photo Gallery
5. Contact Information
Click here to go to our commercial doors catalog
---
1. Interior Fabric High-Speed Doors:
1.1 RapidFreeze® - Model 997
Interior High-Speed Door for Freezer & Cooler Applications
With a speed up to 80' per second + thermal efficiency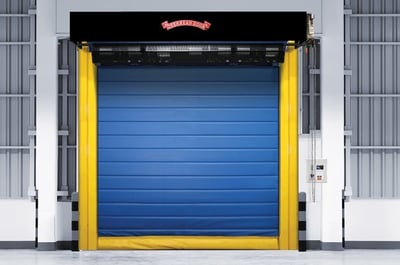 1.2 RapidFlex®​​ - Models 990, 991, 992 & 993
Interior Fabric High-Speed Doors. Ideal for separating controlled environment in high traffic zones, manufacturing, distribution, food / beverage, cold storage and pharmaceutical facilities to prevent cross contamination.
Speed up to 70" per second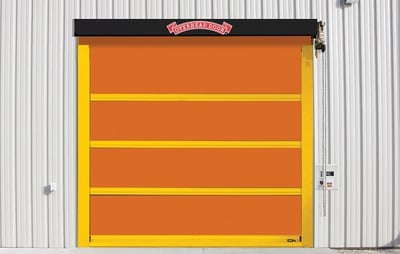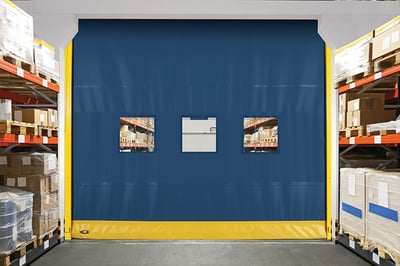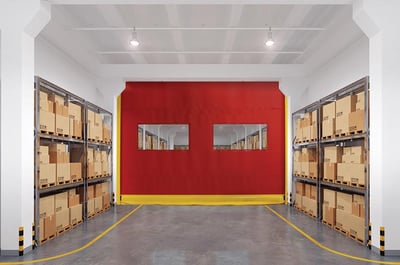 2. Exterior Fabric High-Speed Doors:
RapidFlex®​​ - Models 993 & 994
These two models are both strutted high speed fabric doors, however they feature a heavier curtain material for exterior applications. Both models have been independently tested for wind load and the 993 features a wind load of up to 4.0 psf while the Model 994 features wind load of up to 22.0 psf. The Model 994 also features a patent-pending bottom wind lock and articulating roller wind struts which reduces operational noise while allowing the door to withstand pressure.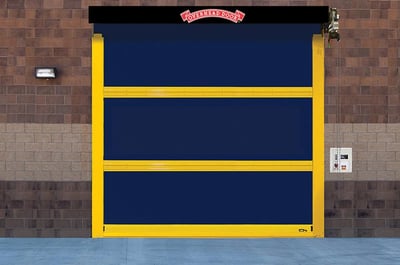 3. Rubber Fabric High-Speed Doors:
RapidFlex® Rubber Doors​ - Model 995
→ Designed for extreme, heavy-duty applications. ←
The rugged petrochemical resistant NBR rubber curtain is reinforced with polyester weave for added strength without the weight. This door features a patent-pending curtain lock design and was independently tested for wind load and can withstand up to 27.0 psf. The heavy-duty guide construction for this door is designed for harsh conditions.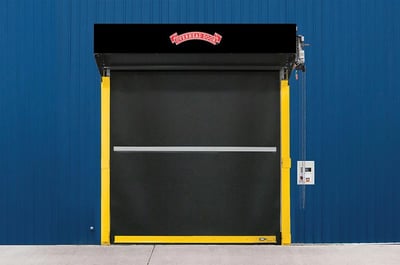 RapidFlex® Rubber Doors​ - Model 995
The RapidFlex​® High Speed rubber door features breakaway and self-reset, infrared obstruction detection, wireless reversing safety edges, and an industry-leading five year door system warranty.​
5. Contact Us:
If you want to learn more about our fabric and rubber high-speed doors contact us at 973-471-4060 | info@dockndoor.com. Our team of experts is looking forward to assist you.
We also repair and service other brands such as Rytec and Flexon high-performance doors.