Many companies, universities, churches and other operations have a need to provide access to service personnel or supplies at irregular hours. Whether you need a rolling service door for security or convenience, call to Overhead Door Company of The Meadowlands & NYC will ensure you find the optimum solution.
Durable and Affordable Rolling Service Counter Doors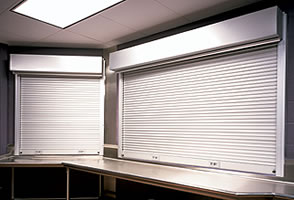 Aside from a large number of specially designed and constructed models of rolling doors and roll-up shutters, you'll find a number of useful options to tailor your choice of a roll up service door to your specific needs. Depending on the model, you can select from different:
Finishes and colors, including the PowderGuardTM Finish Options
Locking mechanisms
Manual or electrical operation
Our overhead service counter doors and rolling shutters are designed to meet the full range of needs from industrial to institutional to foodservice. For example, the rolling shutters you will find in the Model 651 series are both functional and provide reliable long-term use.
Whether you need a rolling service counter door for small openings or for much larger applications, this unit is a great choice. It comes with a stainless steel finish and is perfect for ticket windows, pharmacies, and many other applications.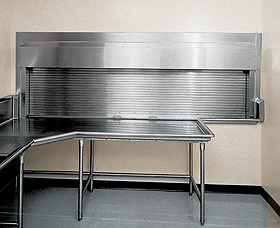 If you prefer the security of a frame-and-sill service door, we have a number of options. You'll find the Model 658 comes as a factory-assembled rolling door that includes a steel frame, fascia, and hood of high-quality 16-gauge steel. For even more security in your service door shutter, you can move to a Model 662, an integrated frame and sill unit that carries a UL label for 90 minutes for both masonry and non-masonry firewalls.
There is only one choice if you want the most experienced team and widest selection for roll-up service counter doors – Overhead Door Company of The Meadowlands & NYC.
For more information, please give us a call at 973-471-4060 or email us at: info@dockndoor.com. For 24 hour emergency service, please contact us at 973-471-4060.
We service Northern New Jersey (Bergen, Passaic, Hudson, Union, Essex, Morris, Hudson, Hunterdon, Middlesex, Mercer and Somerset county/counties), Manhattan, New York City, Brooklyn, Queens, Staten Island, Bronx, Westchester and Rockland.