Preventative maintenance — that is something you utilize for your car, home, and even your body! When it comes to your business, there is another area you should consider maintaining preventatively—your commercial overhead doors and other security grilles. Overhead Door Co. of The Meadowlands & NYC offers preventive maintenance for commercial doors in NYC & NJ area.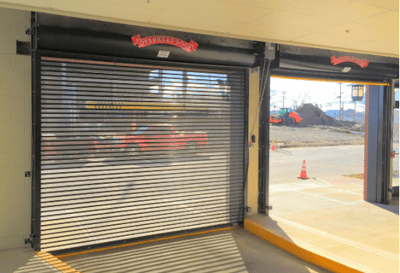 Roll Up Doors | Rolling Steel Doors
Whether you have aluminum doors, rolling steel doors, sectional steel doors, or another form of commercial door, properly maintaining your commercial door can have some major benefits. Consider these three reasons why servicing commercial doors before they actually break just makes sense:
1. Financial Benefits
If you use your high-speed doors or other commercial doors daily and do not keep them properly maintained, you can have some unexpected and costly repairs. By having your doors inspected and serviced regularly, you can spot problems before they start. Properly lubricating and making adjustments will save you money. Replacement parts are often more affordable when you buy them ahead of time too.
2. Safety First
High-performance commercial doors have many moving parts that wear out and break over time. When these parts are broken, they can become noisy, hard to use, and could even cause injuries. In the worst cases, hinges can break and cables snap which could cause major property damage or even hurt you or your staff. Looking into commercial door maintenance ahead of time can prevent this.
3. Keep Your Business Up and Running
You want to keep your business running on a day-to-day basis. If you have broken fire-rated doors, security grilles, counter doors, or other parts, you could run into problems that make you shut down. Missed days at work are bad for business. By making an appointment with Overhead Door Company of The Meadowlands & NYC, you can avoid these closures and keep your business running smoothly.
For more information, please give us a call at 973-471-4060, email us at: info@dockndoor.com or visit our website www.overhead-doors.com.
For 24-hour emergency service, please contact us at 973-471-4060.