Benefits of Installing a High-Speed Door
Your rolling service doors are some of the most used and most underappreciated pieces of equipment in your facility. Every business has different needs and expectations when it comes to service doors, parking garage doors, or other types of overhead doors. Some businesses need a door that fits in with a particular architectural style, some companies value security and still others require a temperature-resistant overhead door. However, another important need is the need for speed.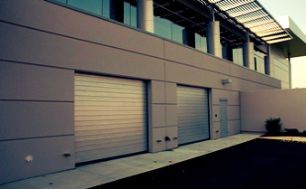 High-Speed Doors
A high-speed door is a great investment for many facilities. Faster opening and closing times on high-speed doors can make a facility more secure, reduce heating or cooling loss and prevent airflow, which can damage certain merchandise. In addition, when you are not stuck waiting for a slow door to open and close, you save time that you can use for other more important tasks around your property.


Our high-speed doors offer the perfect balance between speed, high performance, durability and style.
Choosing the right service door for your structure is a big decision, but a high-speed door can be the ideal solution in many cases.

When it comes to all your door needs, you are never alone. If you have any further questions on high-speed doors or other types of service doors and accessories, call The Overhead Door Company of the Meadowlands & NYC. One of our experts will be happy to discuss your needs and help you choose the right solution for your business.
For more information, please give us a call at 973-471-4060 or email us at: info@dockndoor.com
24 HR Emergency 973-471-4060
We service Northern New Jersey (Bergen, Passaic, Hudson, Union, Essex, Morris, Hudson, Hunterdon, Middlesex, Mercer and Somerset county/counties), Manhattan, New York City, Brooklyn, Queens, Staten Island, Bronx, Westchester and Rockland.