HIGH PERFORMANCE DOORS
Rytec High Performance Doors provide the best in the industry. We have fast speed doors for parking garage complexes, manufacturing facilities, car dealerships, food & beverage distributors and more. Our high speed doors come in aluminum, rilon and vinyl material.


RYTEC SPIRAL

ALUMINUM

HIGH SPEED DOOR
Rytec Spiral Doors are the fastest, safest and most dependable high speed rolling gates on the market. The rigid and light aluminum material allow the door to go to up to 60 inches per second. The aluminum slats can be fabricated to have continuous vision lights, perforation/ventiliation for air flow and insulation in the slats.

High-Speed Spiral Doors Aluminum Rytek Rytec

OFFICIAL RYTEC SPIRAL VIDEO
---
RYTEC PREDADOOR NXT

FABRIC

HIGH SPEED DOOR
This is one of the top-selling high-performance door. Ideal for interior and exterior applications where speed, low maintenance and dependability are critical. Advanced wireless safety system, a tight perimeter seal and durable components provide unsurpassed performance and reliability. ** The NXT Quick-Set™ repair system and System 4® door controller minimize door downtime.
The PredaDoor NXT can be built up to 16' wide x 15' high.
Rytec Fabric High-Speed Door
Rytec Preda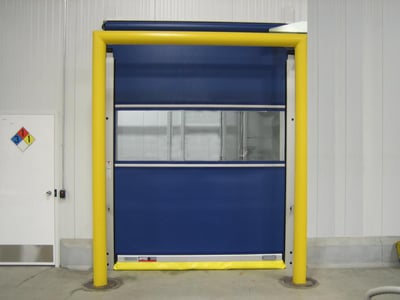 Door® NXT® - Fabric High-Speed Door