Commercial garage doors are heavy-duty pieces of equipment constructed from durable materials. They are built to withstand heavy use because, in most cases, they open and close several times a day. However, there are some issues that can still be related to them and that represent a challenge to business owners because they rely on them to conduct business, therefore, if something goes wrong, it can represent a time and money loss. It is the goal of this article to expose the six most common commercial garage door issues and mostly, to provide you with the tools and steps to follow before calling an expert.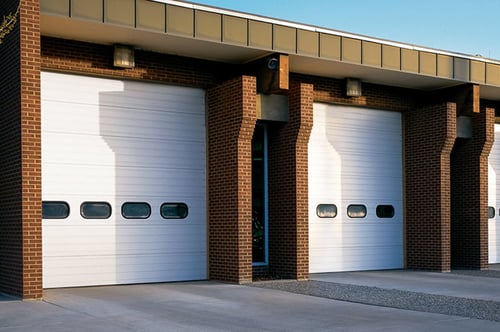 Sectional Steel Overhead Doors
Most Common Commercial Garage Door Issues:
These are the six most common commercial garage door/overhead door issues:
1. Remote Control Issues: The easiest and fastest solution is to check the remote's batteries. Just replace them and proceed to reprogram your remote.
2. Worn or Damaged Rollers: In order to prevent this, try to maintain your rollers and their tracks free from debris and perform frequent inspections for wear and tear. By doing so, it will be easier to identify a worn roller on time to call a garage door repair professional for service.
3. Old or Damaged Torsion Spring: When the issue involves springs, you should always call a technician, for it is one of the most dangerous repairs due to the fact that the garage door springs have extreme tension so they help lift your heavy doors.
4. Worn or Damaged Cables: It is the same process as with the rollers and torsion springs. Inspect your cables on a regular basis and proceed to call an expert service if you observe they are worn out or broken.
5. Improper Alignment: Perform a visual inspection for gaps between the rails, bent or curved metal. Once you spot any of those, you should contact a commercial garage door specialist to repair them.
6. Damaged Section or Panel: If you consider it a better option due to budget issues or practicality, you can always replace a damaged section of your door. However, a new door will offer better warranty options and if you consider it is the proper timing, it will also help increase your property's value.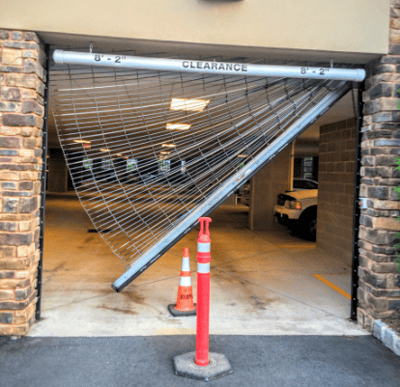 Broken Roll-Up Security Grille
Having established that, we can say that it is a good idea to have a company to rely on. A group of experts who can always take care of your commercial garage door needs or any other issue related. A company that truly cares and knows everything there is to know about commercial garage doors, such as we do in Overhead Door Company of the Meadowlands & NYC. So now, let's analyze the benefits of using a commercial garage door repair service like the one we offer.
Main Benefits of Getting Your Commercial Garage Door Repairs by Professionals
Any business owner who has a commercial garage door in their facility will eventually face a maintenance need. They have two options: try and repair the commercial garage door by themselves, or hire a professional overhead door company. We understand that the first option may seem like an easier choice, but if not done correctly, it can cost more in time and money down the road. Getting your commercial garage door repair done by professionals definitely offers a lot of benefits.
✓ Time and Money Savings: As simple as it seems, a commercial garage door is vital for any business. Its repairs can easily be underestimated but it is a fact that it can make or break your company's success. Regardless of the issue that needs to be addressed, a broken garage door most surely will cause disruptions to your business, resulting in lost income and missed opportunities. Whereas, if you hire a dedicated, professional repair service provider to maintain and keep your garage door running smoothly will alleviate and diminish potential headaches.
✓ Access to Experts: Expert hands will be able to employ their invaluable experience servicing a variety of different commercial and industrial doors under countless situations and settings. Our technicians at Overhead Door Company of the Meadowlands & NYC have a great reputation and long history of providing the best service and addressing commercial doors and loading dock equipment issues with great customer experience.
✓ A Go-To Resource for the Future: You will have a lasting professional relationship with a service provider for any future situations.
✓ Access to the Latest Repair Technology: Being experts, we will guarantee quality and the most updated and top-of.the-line equipment that will get the job done in the fastest and safest possible way on the first shot!
✓ Decreased Risk of Suffering Injuries: A commercial or industrial garage door can be dangerous, especially if they are not working properly. Avoid any risks of getting hurt while trying to work with dangerous and/or heavy garage door pieces. It is better to leave these kinds of repairs to the experts.
✓ 24-Hour Emergency Service: We offer 24-hour emergency service to our existing customers.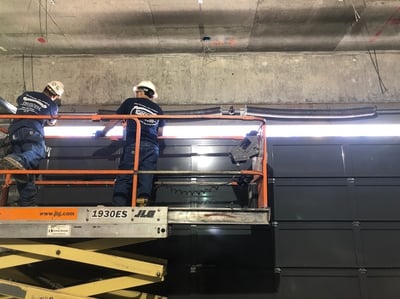 Technicians Replacing a Torsion Spring
Need Some Extra Help? Search No More
Given the situation that your commercial garage door requires the attention of expert hands, our team is here to help. Our technicians have years of experience working in a variety of commercial garage doors, ranging from firehouses, restaurant fronts, local storefronts to large production plants. We've been in business for 40+ years. If anyone knows about your commercial garage door needs, it is us!
Overhead Door Company of the Meadowlands & NYC is ready to handle your commercial garage door repair requirements! Whether your business is facing an emergency or you are looking to enroll in a planned maintenance program, we are ready to provide you with the highest quality service.
We are the region's only Authorized Overhead Door Distributors. We are proud to say that all of our products enjoy the garage door industry's best warranty. See it for yourself!
Send us an email: info@loadingdock.com or call us at 973-471-4060
| | |
| --- | --- |
| | 24-hour emergency service is available for our existing customers! |