Types of Loading Dock Levelers
Loading dock levelers are one of the most important additions you can make to your dock.
The right leveler makes every shipment simpler,
prevents damage to valuable equipment
and promotes loading dock safety.
There are many different types of dock levelers. Learn more about these different types so you can make the right choice when it comes to loading dock equipment for your structure.

Adjustable hydraulic dock levelers are a great option for many loading dock areas. These levelers are built for durability even under heavy traffic conditions. There are a number of different options available at The Overhead Door Company of The Meadowlands and NYC, check out the push-button models that make hydraulic levelers simple.

Hydraulic Dock Leveler
A mechanical dock leveler has a simple chain operation. These levelers are ideal when you need a budget-friendly leveler that will provide years of great service. A mechanical leveler works under nearly any condition, even in hot or cold weather.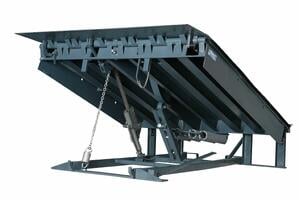 Mechanical Dock Leveler
This style of leveler is the industry standard in surface-mounted dock levelers. The up-front cost of the edge-of-dock levelers is low, but you don't sacrifice quality. One of the "Top-of Dock", hydraulic or mechanical edge-of-dock levelers from The Overhead Door Company of The Meadowlands and NYC will last you for years and stand up to heavy use.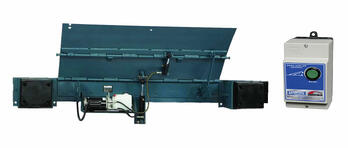 Edge of Dock Leveler
As you can see, dock levelers are an important addition to your loading dock that make every shipment you send out or receive much easier. You may also consider adding dock bumpers to your dock too--these can protect both your structure and the trucks that are in and out of your dock.
Learn more about loading dock bumpers and other accessories, then call or contact The Overhead Door Company of the Meadowlands & NYC and let us help you make your loading docks as safe and functional as possible.
For more information, please give us a call at 973-471-4060 or email us at: info@loadingdock.com
We service Northern New Jersey (Bergen, Passaic, Hudson, Union, Essex, Morris, Hudson, Hunterdon, Middlesex, Mercer and Somerset county/counties), Manhattan, New York City, Brooklyn, Queens, Staten Island, Bronx, Westchester and Rockland.