NYC & NJ Finest Commercial Doors & Loading Docks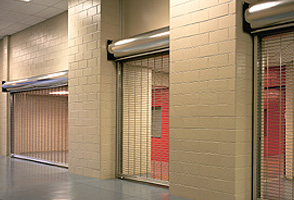 Read More
Tags: security doors, garage door companies, high performance doors, security grille, rolling service doors, aluminum commercial door, counter shutter, safety sensors for overhead doors, RapidGrille, aluminum garage door, counter grille, security counter shutters

Aluminum Glass Doors at Dune Studios - Success Story
Everyone knows that aluminum glass sectional doors are a functional way to secure your building, and allow easy entry or loading/unloading of large items or even vehicles. However, if you are looking for form as well as function, take a page from the books of Dune Studios.
Read More
Tags: commercial garage doors long island, aluminum doors, aluminum commercial doors, aluminum door, sectional door, installing loading docks, commercial doors, installing commercial doors, industrial door, commercial overhead doors, overhead door company of the meadowlands, overhead doors nj, glass doors, industrial doors, commercial door, aluminum commercial door, overhead door, overhead doors, aluminum garage door, commercial garage doors, Commercial garage doors bergen county, commercial garage doors brooklyn, commercial garage doors manhattan, commercial garage doors north jersey, commercial garage doors yonkers, sectional doors, aluminum glass door, aluminum garage doors, glass door

When it comes time to look for a commercial or industrial door for your facility, making the right choice is important. One type of commercial door that you may want to consider, that is stylish, yet functional, is the sectional aluminum glass door.
Over​head Door™ aluminum sectional doors offer an attractive solution for commercial and industrial applications where visual access, light infiltration, and aesthetics are key design considerations.
Read More
Tags: aluminum doors, sectional steel doors, aluminum commercial doors, sectional door, commercial doors, commercial overhead doors, garage door companies, overhead doors nj, industrial doors, commercial and industrial doors, aluminum commercial door, aluminum garage door, commercial garage doors, aluminum glass door, aluminum garage doors