Sectional Doors VS Rolling Doors
There are so many options when it comes to commercial doors. Depending on the area you are securing, separating, or monitoring access to, you may want a particular type. However, when it comes down to it, we sell two main types here at The Overhead Door Company of The Meadowlands and New York City, sectional doors and rolling doors. Within those two types, you will find several different subtypes.
Learn more about commercial sectional doors and commercial rolling doors, as well as the subtypes we offer, so you have a better idea of what type of door you need for your particular commercial need.
Table of Content:
1. Sectional Overhead Doors
1.1 Advanced Sectional Doors (High-Performance Doors)
1.2 Thermacore® Doors (Insulated Sectional Doors)
1.3 Sectional Steel Doors
1.4 Aluminum Glass Doors
2. Rolling Doors (Coiling Doors)
2.1 Advanced Service Doors (High-Performance Doors)
2.2 Rolling Steel Doors
2.3 Fire Rated Doors & Counter Doors
2.4 Counter Doors
2.5 Security Grilles
2.6 Rolling Steel Doors with Man Door (Pass-Through Doors)
2.7 Fabric & Rubber Roll-Up Doors
Sectional doors are created with convenience in mind. These doors work with a controller that can make opening and closing them a breeze. With options like Thermacore®, sectional doors are a great choice for spaces that need temperature control. Today's sectional doors are well constructed for reliable use and minimal maintenance is required. Some of the more popular types of commercial sectional doors available at The Overhead Door Company include the following:
Rolling doors, also known as rolling shutters and coiling doors, are created to protect the contents within an establishment. These doors are easy to secure and allow you to protect the interior of your commercial structure. Certain styles are used within buildings, to separate sections of a building into individual areas.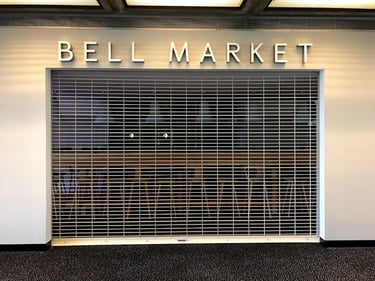 A rolling steel door with a man door (pass-through door) is the go-to option that offers both, security and convenience.
As you can see, there are a number of options when it comes to commercial doors. Taking the time to understand the types of available doors will make it easier to decide on which type is best for your particular structure.
For more information, please give us a call at 973-471-4060 or email us at info@dockndoor.com

24-hr emergency service 973-471-4060
We service Northern New Jersey (Bergen, Passaic, Hudson, Union, Essex, Morris, Hudson, Hunterdon, Middlesex, Mercer and Somerset county/counties), Manhattan, New York City, Brooklyn, Queens, Staten Island, Bronx, Westchester, and Rockland.