Choosing the right commercial door for your loading dock, storage area or anywhere else can be a difficult task. There are many, many options out there— from basic aluminum overhead doors to rolling doors and sectional steel doors. However, if you need the ultimate in thermal efficiency, wind load resistance, and air infiltration, one of the Thermacore® doors from the Overhead Door Company of The Meadowlands & NYC is an ideal choice.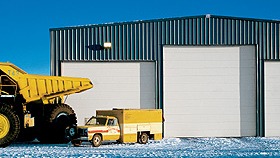 Insulated Sectional Steel Doors
Thermacore® doors are one of the best ways to keep temperatures steady in your storage area. In certain industries, this can not only save money on your energy costs, but it can also help prevent merchandise from damaged due to a drastic change in temperature.
The Thermacore® sectional garage doors at the Overhead Door Company of The Meadowlands & NYC can be customized to fit y our particular needs. The doors are available in sizes up to 40' 2" wide and up to 32' 1" tall. The continuous hinge attachment strip not only makes installation easy but also if you find you need repair work in the future, the repairs can be done on the spot many times.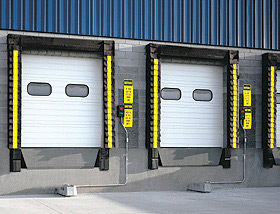 Insulated Sectional Steel Doors
When you are ready to look into the installation of an insulated commercial door, knock and lock doors or any type of sectional garage door for your business, give us a call or contact us online. Our team of overhead door experts is always ready to work with you and help you make the right decision when it comes to commercial garage doors.
Remember, if you are interested in learning more about rolling doors, commercial operators, any type of sectional doors or other overhead door elements, contact us at info@loadingdock.com or give us a call at 973-471-4060.