The Overhead Door Company of the Meadowlands & NYC strongly recommends a regularly scheduled preventative maintenance plan for commercial overhead doors. Our preventative maintenance plans improve operational efficiency, safety, and reliability.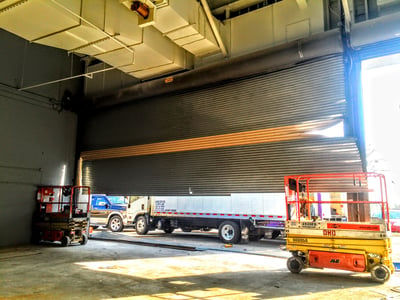 Preventive Maintenance Reduces the Need for Emergency Repairs
Why Is a Maintenance Plan for an Overhead Door So Important?
Overhead Door preventative maintenance not only decreases costly downtime by preventing some types of industrial door malfunctions, but it can also decrease repair expenses over the long term. Scheduling commercial doors maintenance regularly reduces the need for emergency repairs to overhead doors.


What Does a Preventive Plan Entail?
Preventative maintenance is focused on keeping your overhead doors in peak condition at all times, instead of only performing maintenance in response to a needed repair.
Among other things, preventative maintenance includes keeping the track surfaces of the overhead door clean and free of obstructions, grease, and oil, making certain bolts and fasteners are correctly tightened, and addressing any damage or wear and tear which has occurred over time. The door surface and hardware should also be checked on a regular basis, to maintain the functionality of the roller assembly, bottom seal, hinge points, and other elements. The counterbalance should also be examined periodically to ensure that the drum, cable, torsion spring, shaft bearings, set screws, and collars are working as intended. Some elements may need periodic lubrication, while others may need tightness adjustments or replacement due to corrosion.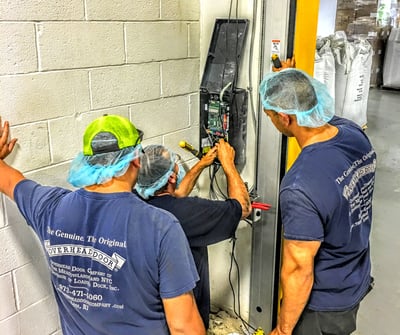 Why Schedule Professional Preventive Maintenance for Your Overhead Door?
Overhead doors include a number of elements that can be under high spring tension, including bottom fixtures, cables, drums, pulleys, shafts, and brackets, and only professionals should attempt repairs to these items. These springs are under extreme pressure which can be dangerous to release. If they snap suddenly, there is a possibility that they can cause serious injuries, damages, and even causalities.
Winding, repairs, and spring adjustments must also be completed by trained personnel.
Another advantage is that a professional technician will have extensive experience in identifying the potential for problems before they have a chance to occur.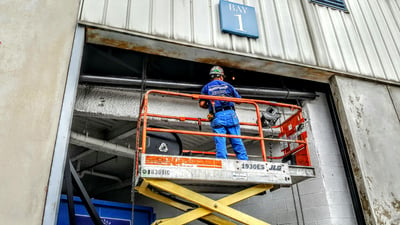 How Often Should a Preventive Maintenance Be Scheduled?
The frequency with which a customer schedules service technicians to perform preventative maintenance on industrial doors or other equipment will vary according to the climate and other conditions under which the door regularly operates. Some preventative maintenance may be required monthly, while other types of maintenance should be undertaken every three to six months. To determine the best preventative maintenance schedule for your overhead doors or loading dock equipment contact The Overhead Door Company of The Meadowlands & NYC for a consultation.
For more information, please give us a call at 973-471-4060 or email us at: info@dockndoor.com.
For 24-hour emergency service, please call 973-471-4060
We service Northern New Jersey (Bergen, Passaic, Hudson, Union, Essex, Morris, Hudson, Hunterdon, Middlesex, Mercer and Somerset county/counties), Manhattan, New York City, Brooklyn, Queens, Staten Island, Bronx, Westchester, and Rockland.