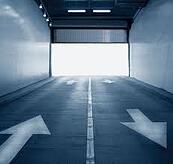 At Overhead Door Company of the Meadowlands & NYC, one of the biggest concerns we hear from our clients regards the security of commercial and industrial doors. They worry that traditional style doors do not offer the best protection possible, nor do they meet their business location needs. In this case, we often recommend RapidSlat Advanced Service Doors.
The RapidSlat system was also created to handle a wide variety of commercial situations. These high-performance doors open up to three times faster than traditional rolling steel doors. In addition, they also provide higher durability and security than fabric doors. They are also easier to install and easier to troubleshoot due to the variety of insulation, weather seal, and wind load options available when selecting the perfect door for your business location.
The Overhead Door Power Guard Finish also provides enduring performance to help maximize the life cycle of your door system. A reliable spring less operation design also eliminates the need for counterbalance, making your rolling door system safer and less bulky than other model types.
For areas with high traffic (such as employees and equipment) the RapidSlat Advanced Rolling Door also includes a variety of safety features, including a built-in variable frequency drive that allows the door to close much more slowly than it opens. A safety sensing edge also opens the door the moment it senses contact with an item or person while in the process of closing.
In essence, RapidSlat Advanced Rolling Service Doors are like having two doors in one! Their safety, security, and range of use is unparalleled.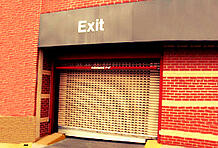 For more information, please give Overhead Door Company of the Meadowlands & NYC a call at 973-471-4060 or email us at: info@dockndoor.com.
For 24 hour emergency service, please contact us at 1-201-273-7445.