Modern steel rolling doors are one of a long list of technological marvels we simply take for granted. Years of research, practical applications of technology, and field experience have produced a wide range of rolling steel doors to meet just about any application one can imagine. In fact, multiple varieties of steel and other materials such as aluminum add to the versatility and functionality of these highly efficient rolling doors.
More than a Simple Door

Part of the complexity of these rolling grille mesh gates or doors is demonstrated by the many options and parts that go into a custom designed, manufactured and installed door. Just a sampling of these options include:
Form of operation – manual, chain, crank or electric motor
Curtain material and finish – galvanized steel, stainless steel, aluminum milled or anodized
Curtain inserts – glass, polycarbonate, aluminum, perforated steel
Emergency egress – manual or automatic
Locking process – slide bolts, chain lock, security rods, interlocks
Frame width and type – standard, wide or mount
Track material
Of course, the chosen door will be sized to fit the needed size, up to a maximum of 12 feet. Likewise, the door can roll up to an overhead position or to either side of the opening.​
Putting the Parts Together to Meet Your Needs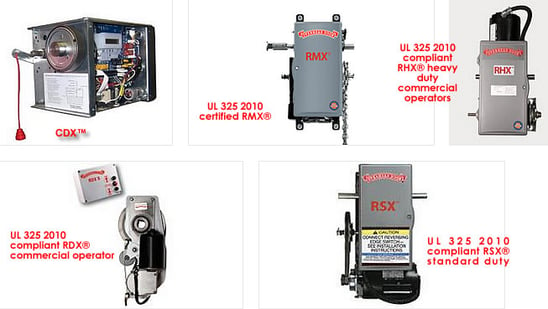 While the above details some of the many components of a finished rolling steel door, they actually allow you to also select from a range of completed closures for any application. These include:
There's no need to be overwhelmed by these many options and decisions. The experienced and helpful team at Overhead Door Company of The Meadowlands and NYC stand ready to walk you through the process to find the door to fit your project and budget.
To learn more about other options, check out our product catalog and choose the right commercial door for your facility. Spend some time looking at the sectional doors, rolling steel doors, other industrial doors and the accessories like commercial operators that you can find at the Overhead Door Company of The Meadowlands & NYC. You will appreciate not only our amazing selection but also the level of customer service and care you receive from our team of overhead door experts. You can also read other entries in our blog.

For more information, please give us a call at 973-471-4060 or email us at: info@dockndoor.com We service Northern New Jersey, Manhattan, New York City, Brookln, Queens, Staten Island, Bronx, Westchester and Rockland.

For 24 hour emergency service, please contact us at 800-362-6367