If you have an application that provides public access, but your location or office must be restricted at times, an overhead security grille is often the perfect solution. Overhead Door Corporation provides a superior series of security grilles that provide attractive and reliable options for your customized needs.
Designed for Style, Security and Performance
The 600 series of side-folding, open-air security grilles allow for continuous air circulation and maximum visibility of interior spaces, even when fully secured. This makes the grill an excellent choice for schools, entertainment venues, malls, offices and airport concourses. The 683 security grille is designed to provide a maximum height of 12 feet and can address a wide a space as possible.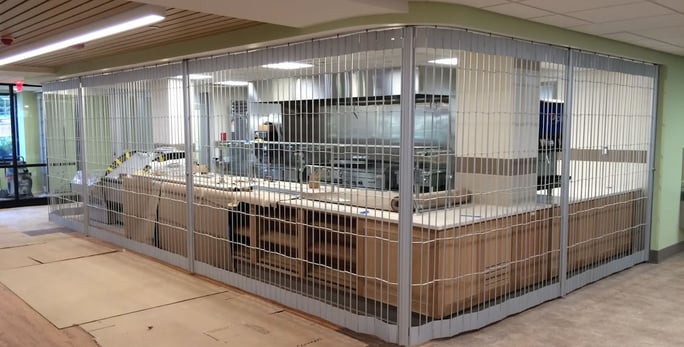 This model boasts of a wide range of options and features that allows the unit to meet your needs for multiple applications. These include different curtain colors, patterns and finishes. The eco-senstitive PowderGuard™ Finish Options and provide more than 215 standard colors in the PowderGuard™ Premium Color Chart, and you can also select the color-matching option to choose a color to specification.
Multiple Options and Alternatives
The Model 683 security grille comes with a clear anodized finish and truss-like aluminum top and bottom plates of 1/8". The post types include:
Lead post of hook lock and wall channel, bi-part, top and bottom shoot bolts
Intermediate post with bottom-shoot bolt
Trailing-end post with travelling, fixed, hook lock and wall jamb, top and bottom shoot bolts, and carrier
Each of the post types have different locking mechanisms, ranging from concealed cylinder-operated to plate self-locking into a steel V-Stop.
Overhead Door Company of The Meadowlands & NYC will ensure your grille is installed to exacting standards, and our precision maintenance will support the OEM limited 24-month warranty to ensure long, durable and reliable performance of this superb security grille.
For more information, please give us a call at 973-471-4060 or email us at: info@dockndoor.com We service Northern New Jersey (Bergen, Passaic, Union, Essex, Morris, Hudson, Somerset county/counties), Manhattan, New York City, Brooklyn, Queens, Staten Island, Bronx, Westchester and Rockland.