A high quality, durable door can look good too. The Overhead Door Company offers a number of options that can improve your door's looks while adding strenght too.
There's no reason to sacrifice style for the sake of durability! You may think that a door that looks good would be less durable or not as strong as one that is a boring grey, white or beige. However, nothing could be further from the truth. You can add colors to your door while adding strength too.
The Overhead Door Company offers Tiger Drylac Powder Coatings which not only offers you dozens of different color choices while at the same time providing added strength to your door. These coatings can protect your door from sun, rain and other hazards that over time cause a door to fade or lose strength. There is no better solution for you—and with a quick turnaround time too.
You don't have to stick with that same old boring door color that everyone uses. If you would like to learn more about how we can add color to your doors, contact us at The Overhead Door Company of The Meadowlands & NYC. We can help you choose the right color to enhance the exterior of your building while retaining all the benefits of a well-made, high quality Overhead Door Company door.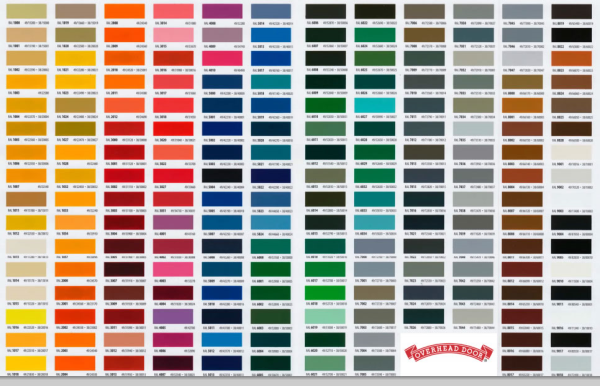 For more information, please give us a call at 973-471-4060 or email us at: info@dockndoor.com
24 HR Emergency 973-471-406
We service Northern New Jersey (Bergen, Passaic, Hudson, Union, Essex, Morris, Hudson, Hunterdon, Middlesex, Mercer and Somerset county/counties), Manhattan, New York City, Brooklyn, Queens, Staten Island, Bronx, Westchester and Rockland.