If you have a new project that calls for the best insulated sectional doors, you will find that Thermacore® doors provide you with superior insulation.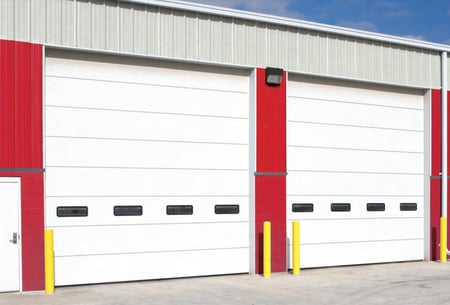 Thermacore® Overhead Doors (Insulated Sectional Doors)
These doors are designed and built to meet demanding requirements with a triple-threat solution to:
- Air infiltration
- Wind load resistance
- Thermal efficiency
As an industry leader in insulated sectional doors, Thermacore® overhead doors come in a series of models that meet your specific needs. These capabilities make the Thermacore® doors, one of the most popular choices with our clients. Each door is constructed with an innovative steel and polyurethane composition that meets the strictest product quality and performance standards.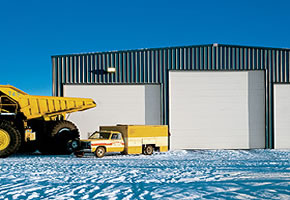 Thermacore® Overhead Doors (Insulated Sectional Doors)
You'll find the medium-duty insulated doors (models 593 and 594) deliver a superior balance between cost, reliability, and long-term rugged use. These overhead sectional doors are also known for their high aesthetic appeal which makes them the perfect solution for many applications beyond the industrial market. Other features include:
- Thermacore® Sectional Door Model 593: This attractive and best-selling sectional door comes with a ribbed, textured finish available in multiple color choices. With an exterior skin of galvanized steel, you have window glazing options along with different safety and high usage options. With a standard maximum width of 20'2" (6147 mm) and height of 16'1" (4902 mm), this door comes with panels of 1 3/8" (35 mm) thickness.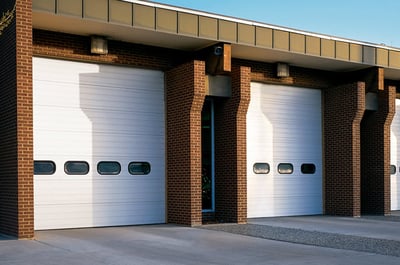 Thermacore® Sectional Steel Doors 593

- Thermacore® Sectional Steel Doors 594: The Model 594 doors feature a raised-panel, wood-grain textured surface for a more decorative appearance. This product is an exceptionally popular choice for RV door applications.​​​​​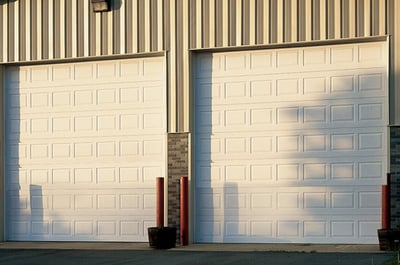 Thermacore® Sectional Steel Doors 594
Both of these models provide superior performance:
- R-value of 12.76 (2.26 W/m2)
- U-value of .078 (.443 m2/W)
- Air infiltration values at both 15 mph (24 kmph) and 25 mph (40 kmph) of .08 cfm/ft2 (1.46 m3/hr/m2)
Our highly trained and experienced team at Overhead Door Company of The Meadowlands will help you find the answer to your overhead and rolling door needs. We deliver the total solution, from offering only the best products to expert installation to unexcelled maintenance and support. Call today for solid answers to your commercial doors (rolling door and sectional doors) and loading dock questions.
For more information, please give us a call at 973-471-4060 or email us at: info@dockndoor.com
We service Northern New Jersey (Bergen, Passaic, Hudson, Union, Essex, Morris, Hudson, Hunterdon, Middlesex, Mercer and Somerset county/counties), Manhattan, New York City, Brooklyn, Queens, Staten Island, Bronx, Westchester and Rockland.
24-hour emergency service is available for existing customers, please contact us at 973-471-4060