When your project or facility has a need for efficient and effective climate control, you will find the Thermacore® AP a superior product for the job. The Thermacore® AP Model 850 is designed to provide the best in thermal performance while providing years of durability and easy maintenance.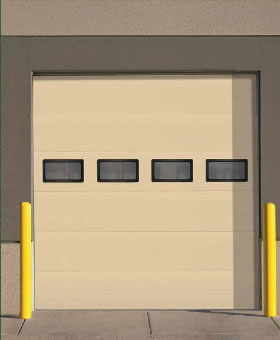 In fact, no other U.S. manufacturer of 3" commercial insulated sectional doors provides the advanced performance profile of the Thermacore® AP Model 850. Whether your need is to protect against extremes of heat, cold or both, this is a sectional door that you can rely on season after season. You'll find this Thermacore® door is part of a series of innovative and durable doors for use in facilities for a wide range of industries and applications, including:​
- Food and beverage
- Agricultural
- Pharmaceutical
- Manufacturing
- Governmental
The Thermacore® AP Model 850 boasts an unequaled R-value* of 26, U-value** of .038 and a tested installed U-factor† of .14. These performance factors are only part of this comprehensive sectional door package. You will also find:
✓ Optional color options and finishes
✓ Multiple choices for windows and glazing
✓ High-use and long-term service components and springs
✓ Bottom sensing edge
✓ Exhaust Ports (available in 3" and 4")
Thermacore® doors are designed and manufactured with pride, and the 850 model comes with a number of protections, including 10-year limited delamination, 1-year material and workmanship, and a 3-year/20,000 cycle door and operator system.
When you choose Overhead Door Company of The Meadowlands & NYC as your rolling door and insulated door provider, you are choosing a win-win solution. We offer only the finest and most reliable thermal doors and overhead doors, and our professional installers ensure your doors are installed to exacting manufacturer standards.
For more information, please give us a call at 973-471-4060 or email us at: info@loadingdock.com
We service Northern New Jersey (Bergen, Passaic, Hudson, Union, Essex, Morris, Hudson, Hunterdon, Middlesex, Mercer and Somerset county/counties), Manhattan, New York City, Brooklyn, Queens, Staten Island, Bronx, Westchester and Rockland.
We offer 24-hour emergency service to our existing customers!