There are many applications that require an effective yet attractive way to prevent access to certain areas at different times. Whether your need is for a retail location, sports arena, or other access control point, you'll find the design and functionality of the 671 Series of upward-coiling grilles the perfect answer.
Depending on your specific requirements, you have the option of selecting between curtains made of galvanized steel, aluminum, or stainless steel. In each case, the mesh gate you choose will provide the safety you need while maintaining air circulation, light infiltration, and visual access.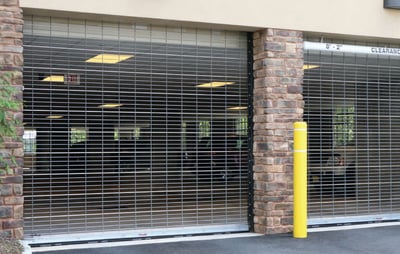 Our years of experience in designing and installing high-quality upward-coiling security grilles provide you with an affordable solution for your project. In addition to you choice of material for the curtain, the grille can be installed with a straight-lattice pattern or one of the staggered bricks. There is also an option for an aluminum curtain constructed with a fire-retardant poly-carbonate panel. These designs provide a grille with full visual access while preventing theft and ensuring the security of the area.
Options and Versatility without Compromise
The team at Overhead Door Company of The Meadowlands & NYC specializes in delivering Security Grilles with customized features. They will help you choose among options that include:
197 powdercoat paint finishes in standard colors or your own color match

Time clock, card reader, and keypad access controls

Manual or automatic hoisting with chain host, removable awning crank, crank box, or electric motor

Emergency egress operation with automatic or manual release
When you choose just the right security grille from our many designs and combinations, we can even offer a heavy-use package for high-traffic applications. Get the peace of mind you desire without compromising appearance and affordability when you select your security grille from the 670 Series.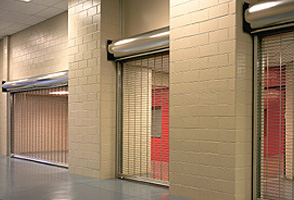 To learn more about other options, check out our product catalog and choose the right commercial door and dock for your facility. Spend some time looking at the sectional doors, rolling steel doors, other industrial doors and the accessories like commercial operators that you can find at the Overhead Door Company of The Meadowlands & NYC. You will appreciate not only our amazing selection but also the level of customer service and care you receive from our team of overhead door experts. You can also read other entries in our blog.
For more information, please give us a call at 973-471-4060 or email us at: info@dockndoor.com We service Northern New Jersey, Manhattan, New York City, Brooklyn, Queens, Staten Island, Bronx, Westchester, and Rockland.
For 24 hour emergency service, please contact us at 973-471-4060.