According to some studies, 90% of retailers have been victims of theft over time. It is easy to think that as a retail owner or any business owner, it is pertinent and crucial to take every possible measure to prevent retail theft, and mostly, make sure your business is not an easy target for criminals. Installing a security grille, and taking other basic measures will help you secure your store.
Measures to Help Secure Your Store:
These are some of the measures that a store owner can make to secure their storefront:
- Installing a Side-Folding or an Upward Coiling Security Grille
When making security a priority, if you are looking for a commercial door but you want to maximize air circulation, light infiltration, and visual access to interior spaces, we have an ideal solution for you: our security rolling grilles. Our security grilles not only secure premises and guard against theft and debris with superior compactness, but they offer nearly endless design possibilities because they come in various materials. You can install a side-folding security grille or an upward coil security grille, both with visual access.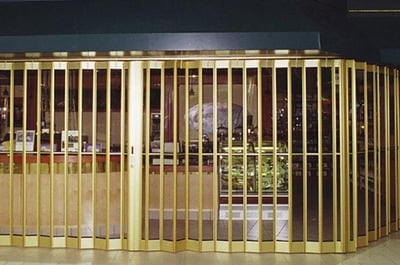 Side-Folding Security Grille
Our security grilles provide a display of attractive solutions for a wide range of commercial, retail, and industrial applications. At Overhead Door Company of the Meadowlands & NYC, we offer a complete line of side-folding and upward-coiling grilles. Constructed of aluminum, stainless, or galvanized steel – with an optional electric motor – these grilles are designed for durability and easy operation.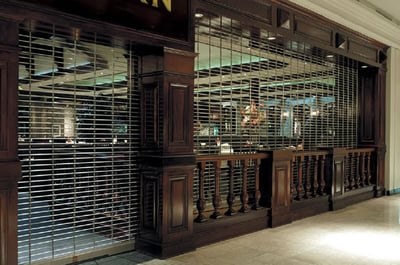 Upward-Coiling Security Grilles
- Proper Staff Training
Your personnel is the most valuable asset in any business. You should really invest some time in proper training and establishing a plan as well as setting up procedures to limit the risk of retail theft, so your employees know exactly how to proceed in any possible situation. Another important measure is to keep the store well-lit during operating hours and also try to install motion-sensing lights to prevent thieves from robbing during the after hours.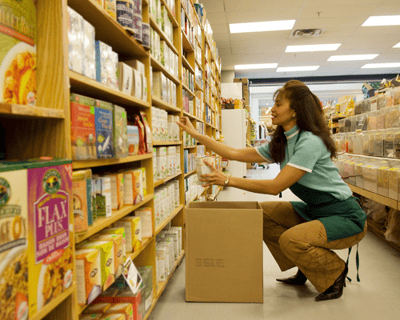 - Installing Video Surveillance System
The installation of security cameras is crucial for any business, not only for preventing burglary but also for employees and customers to know that they are being watched. This is a very important measure that will save you lots of time and money.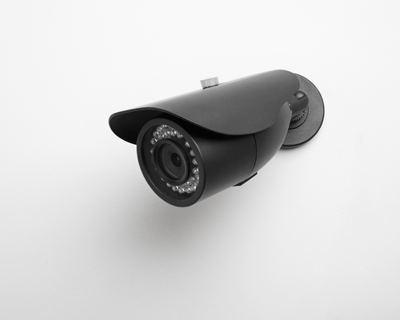 - Door Access Control
Access control systems provide store owners and managers full control over who can access either the store or the inventory. You can stop worrying about lost, stolen or copied keys by giving your employees access codes, keypads or fobs. By doing this, you can have a record of who accessed what areas and when. This will dramatically decrease theft opportunities.
In conclusion, the right theft deterrent system for your retail store will maximize your profits while minimizing losses. Though theft prevention automatically stabilizes your profit margins by preventing a loss, retail security can also add positive credit to your profits.
While having security systems in place is crucial to any modern business as well as the installation of security cameras to deter criminal activity and promote the safety of the public and staff, it is crucial to go a step further by installing modern security grilles or rolling doors. These modern security systems have the ability to add commercial value to retail outlets that can also save expenses and provide you with the peace of mind so needed nowadays.
Contact us today. Our experts can discuss with you how to find the right commercial door for your store. You can call 973-471-4060 or email us at info@loadingdock.com.
We've been serving NJ and NYC Metro area for 40+ years.