PREVENTATIVE MAINTENANCE PLANS FOR ROLLING STEEL DOORS (ROLL-UP DOORS, COILING DOORS)


Benefits of a Preventive Maintenance Program for Your Roll-Up Door:
✓ Increase operational efficiency, safety, and reliability
✓ Extend useful life of your equipment
✓ Reduce probability of equipment malfunctioning
✓ Decrease costly downtime
✓ Decrease long-term repair expense
✓ Establish relationship with experienced, service-oriented professionals

Troubleshooting Guide for Rolling Service Doors
1. PROBLEM: The rolling door is hard to raise but easy to lower.
- SOLUTION: Springs require more turns. Raise the door to a fully opened position and add spring tension (1/8 turn at a time) until the same resistance is felt lowering the door as is felt raising the door. Adjust tension wheel with steel winding bards 3' long and diameter ½" or ¾".
2. PROBLEM: The rolling door is hard to lower but easy to raise.
- SOLUTION: Springs require fewer turns. Raise door to fully opened position and remove spring tension (1/8 turn at a time) until results listed in example 1 are achieved.
3. PROBLEM: The roll-up door hangs up at the entrance into guides.
- SOLUTION A: Bellmouths might be out of position away from the head plate allowing end locks to wedge. Loosen attachment nut and locate the edge of bellmouth snug against the head plate and tighten.
- SOLUTION B: Endlocks might have become loose and tilted out of position. Drill out loose fasteners and reattach with a suitable fastener.
- SOLUTION C: The curtain might have been bent and damaged enough to wedge in guides. In some cases, the bellmouths can be removed from the guide entrance and the curtain lowered outside of the guides and straightened. Be careful not to allow the curtain to rapidly unwind off the counterbalance.
4. PROBLEM: The electric operator stops too soon; it does not reach the open or closed position.
- SOLUTION: The rolling door operator limit switch setting has become out of phase with the door. Reset the limit switches. See operator installation instructions for the method of resetting limits.
5. PROBLEM: The operator does not run.
- SOLUTION A: Verify that electric power is available to the operator.
- SOLUTION B: Verify 24 VAC control voltage from operator transformer.
- SOLUTION C: Verify condition of hoist interlock switch.
- SOLUTION D: Verify the condition of the slide-bolt interlock switch.
Recommended Preventive Maintenance for Rolling Steel Gates/Doors
(Roll-Up Doors, Coiling Doors)
To keep the roll-up door in good working condition:
Every three months:
✓ Oil all moving parts except the clutch mechanism on fire doors and the wool pile in the guides on rolling grilles or counter doors. The guides should be lubricated with paste wax or silicone spray.
✓ If electrically operated, check the operator gear reducer for oil leakage. If it is necessary to add oil, use Mobile Synthetic Oil (AGMA 7 #SHC 75W90).
✓ Check the tension of the roller chain between the operator and the door sprocket (see Figure A). If too loose, loosen the operator mounting bolts and slide the operator to tighten the chain (see Figure B). Retighten the operator mounting bolts.
✓ Oil the interior roller chain on operators without a gear reducer.
Every six months:
✓ Oil all exposed roller chains, and on electric operators, dry lube the limit switch shaft threads.
✓ All bearings provided with grease fittings should be lubricated. If so equipped, find bearings located in the drive bracket and tension end of the counterbalance.
✓ Fire doors should be drop tested unless more frequent testing is required by other codes. Always use the Drop Test Instructions located inside the tension head-plate cover.
✓ On crank-operated doors and grilles, the crank assemblies are sealed with grease and should not require lubrication.
The above frequency of maintenance is for normal operation. Severe duty or unusual operating conditions may require modification of the times between maintenance.
Scope of Work for Roll-Up Doors and Electric Operators
✓ Inspect door alignment and level.
✓ Inspect slats and end locks for damage.
✓ Inspect guides, bottom bar, and hood for damage.
✓ Inspect all weather-stripping for wear or damage.
✓ Adjust spring and lubricate bearings.
✓ Inspect and tighten fasteners.
✓ Inspect and lubricate chain hoist.
✓ Inspect locks for proper operation.
✓ Inspect and tighten all sprockets and shaft collars.
✓ Inspect safety labels, placement, and condition.
Electric Roll-Up Door Operators:
✓ Inspect and adjust limit switches.
✓ Inspect and adjust belts.
✓ Inspect and adjust the brake.
✓ Inspect gear reducer.
✓ Inspect operator mounting.
✓ Inspect and test disconnect.
✓ Inspect and lubricate roller chain.
✓ Inspect and tighten all sprockets.
✓ Inspect safety labels, placement, and condition.
✓ Inspect fuse-links and replace painted fuse links.
✓ Fire door drop test for proper operation.
✓ Check that fire door is properly reset.
✓ Test electric fusible links for continuity (where applicable).
✓ Test smoke detector (where applicable).
✓ Test hold-open devices and time delays (where applicable).
✓ Inspect safety labels, placement and condition.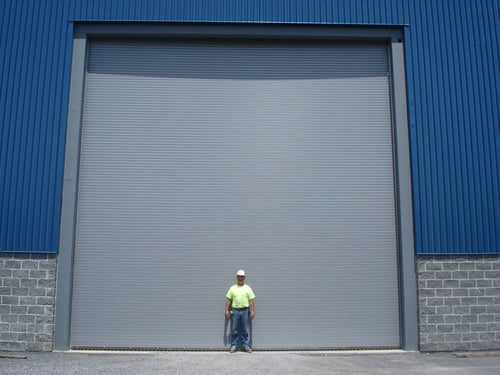 The expert servicemen of Overhead Door Company of The Meadowlands & NYC are always available to provide rolling door and fire door service; repairs, installation, and maintenance to meet the needs of your business. Get the best preventive maintenance for your rolling doors. Click the "Request Service" below!
For more information, please give us a call at 973-471-4060 or email us at: info@dockndoor.com
24 HR Emergency 973-471-4060
We service Northern New Jersey (Bergen, Passaic, Hudson, Union, Essex, Morris, Hudson, Hunterdon, Middlesex, Mercer and Somerset county/counties), Manhattan, New York City, Brooklyn, Queens, Staten Island, Bronx, Westchester and Rockland.