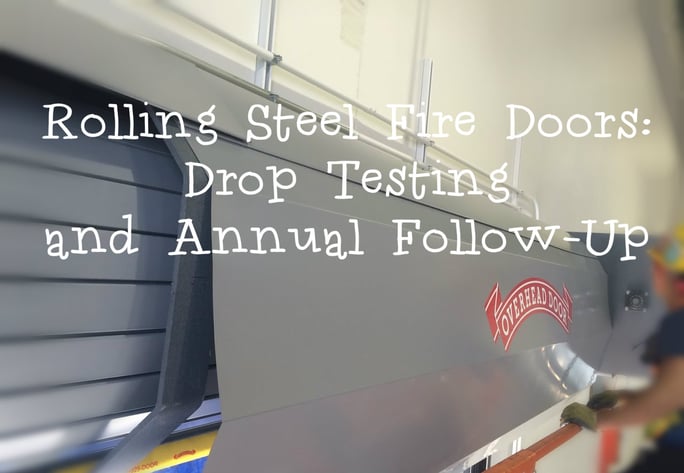 General
This Technical Data Sheet provides facility managers with guidelines for evaluation of rolling fire doors designed and tested to provide the automatic closing fire protection indicated on the fire door label. The automatic closing of the door must be tested at the time the door is installed, and the door shall be inspected and tested not less than annually as required by NFPA 80. This requirement applies to all fire doors – even those that are not used and remain in the closed position. The doors must be checked regularly for conditions that may affect the operation of the door. DASMA recommends that the following procedures be observed:
Inspection:
Inspect fire doors for damage to guides, curtain and endlocks, bottom bar, hood and operating mechanism.

Refer to DASMA Technical Data Sheet #270 ("Recommended Rolling Door Maintenance Practice")

Refer to NFPA 80 (Standard for Fire Doors and Other Opening Protectives)

Ensure that the door's operating mechanisms, fuse links and release chain/cable are not painted, coated with dust or grease, and/or covered with debris.

Open and close the door to inspect for any indications of damaged parts.

Remove flammable substances on each side of the firewall opening near the fire door.
Droptest:
Have a trained door systems technician perform an inspection and drop test of all fire door automatic closing features.

Establish a contract with the door service provider regarding the cost of the inspection and drop test. Fire door deficiencies identified during the pre-drop test inspection should be corrected before the drop test. The drop test contract should acknowledge the fact that components may fail during the drop test that are not the fault of the service provider and are not included in the cost of the drop test.

Document the drop test with the attached DASMA Drop Test Form.

When subjected to drop testing, the door must close completely and rest on the sill. NFPA 80 states that the average closing speed must not exceed 24 inches per second and must be at least 6 inches per second.

The door must be drop tested twice – once to verify proper operation and full closure, and a second time to verify that the automatic closing device was properly reset.
DASMA ROLLING STEEL FIRE DOOR DROP TEST FORM
General
NFPA 80 and Model Codes require the inspection and testing of fire doors to demonstrate proper operation, full closure, and proper reset. Perform the visual inspection before the operational check, or before the drop tests of the fire door, in order to reduce the risk of failure during the drop tests. Use the form below to record the Visual, Operational, and Drop Test results. Check Pass or Fail in the boxes. See the Guidelines for additional information.
The drop tests, reset, repairs and/or maintenance should be performed by a trained door system technician with complete knowledge of this type of fire door and the manufacturer's instructions. Repair parts must be obtained from the original door manufacturer. After repairs are completed, the door must be tested to assure proper door operation and automatic closing capability. The fire door must be in the fully open position before the drop test. Reset the door following the drop test and test again.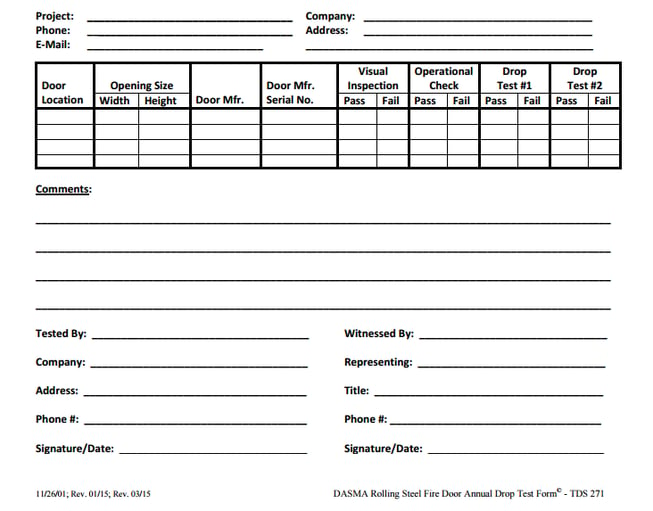 GUIDELINES
VISUAL INSPECTION:
Conduct a visual inspection for anything that may cause a hazard during testing or affect proper operation or resetting.
Verify that:
Mounting and assembly bolts are not missing or loose.

Welds and weld locations comply with installation method for fire door assemblies welded to steel jambs per manufacturer's installation instructions.

Fusible links are located per manufacturer's instructions.

Guide assemblies have the required fire expansion clearance per manufacturer's instructions.

Fusible links and sash chain/cable links are not painted or coated with dust or grease, cable is not kinked or pinched, chain is flexible and not twisted, and raceways are not obstructed.

Smoke detectors/release devices function properly.

Nothing that is not a part of the fire door assembly is attached to any part of the fire door assembly (suspended ceiling, light fixtures, ducting, conduits, framing and any other building materials).
Check for damaged or missing components:
Slats – bent; tears or holes; metal fatigue.

Endlocks – missing; broken; bent; loose

Bottom Bar – bent angles; loose bolts.

Guide Assembly – bent angles or channels; loose bolts; curtain entry misalignment.

Hood (and Flame Baffle when required) or Fascia – bent; rubbing curtain; holes; loose fasteners; metal fatigue; missing intermediate supports (when required).

Automatic Closing Mechanism – missing, broken parts; drop or release arms tied, blocked or wedged.

Operating Mechanism – worn, misaligned or poorly meshed gears; worn roller chains; misaligned or loose sprockets; loose bearings; broken parts; bent shafts.
OPERATIONAL CHECK
Open and close the door using normal operation. If you find the door is not properly balanced, or there is damage or missing parts that may create a hazard or prevent proper operation, have these conditions corrected before conducting a drop test.
DROPTEST
A drop test is required to confirm that the fire door will close automatically during a fire emergency. Use manufacturer's drop test instructions. Door must be fully open before drop test. The door must close fully so the bottom bar rests on the sill. The average closing speed must be between 6" and 24" per second. Test each automatic closing option for the fire door.
RESET THE DOOR
Reset the door per manufacturer's instructions. Open and close the door by normal operation. Drop test the door a second time, and reset again.
Ultimate acceptance of a fire door is the decision of the authority having jurisdiction, as defined in NFPA 80.
Credit: DASMA Technical Data Sheet #271
Call the reliable technicians of Overhead Door Company of The Meadowlands & NYC today for your rolling steel fire door service, repair or maintenance.
For more information, please give us a call at 973-471-4060 or email us at: info@dockndoor.com
We service Northern New Jersey (Bergen, Passaic, Hudson, Union, Essex, Morris, Hudson, Hunterdon, Middlesex, Mercer and Somerset county/counties), Manhattan, New York City, Brooklyn, Queens, Staten Island, Bronx, Westchester and Rockland.