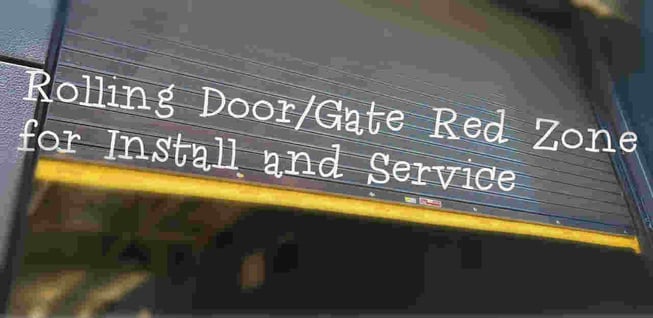 Rolling Door "Red Zone" for Installations and Service
Introduction
When installers arrive at a job site to install a rolling door, it is a common occurrence for them to encounter obstructions that impede or prevent the installation of the door. Many times other trades have come into an area and installed electrical equipment, mechanical equipment, or walls and ceilings near the door opening before the door is installed. Consequently, the door cannot be installed, resulting in costly rework and lost time. In order to aid architects, project managers, contractors and building owners, DASMA is providing pre-installation "Red Zone" diagrams.
The "Red Zone" is the area required to remain clear for installation and maintenance of the door, and is denoted by hatched areas on the diagrams. These areas indicate door and hardware locations and, most importantly, service area requirements. A rolling door dealer can supply the pertinent information shown in tabulated form on the appropriate diagram. The industry advises that the completed diagram be submitted with the door shop drawings, signed by the site superintendent, and distributed to the building owner and other pertinent trades.
Wall areas encompassed by the "Red Zone" are to be kept clear of electrical and mechanical equipment including conduit, junction boxes, light fixtures, sprinkler equipment, heating units, cranes, monorails and other items.
Diagrams
Red Zone diagram for Rolling Doors
• Applies to manually operated rolling doors.
Red Zone diagrams for Rolling Doors with Operators
• Applies to motor operated rolling doors.
• Motor operator mounting orientation should be selected by checking the appropriate box.
• Motor clearances should include the space required for installation and wiring the operator.
• Separate forms have been created for bracket-mounted and wall-mounted operators.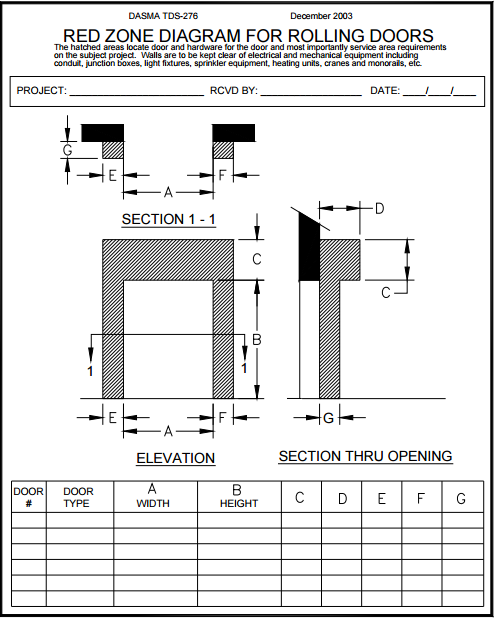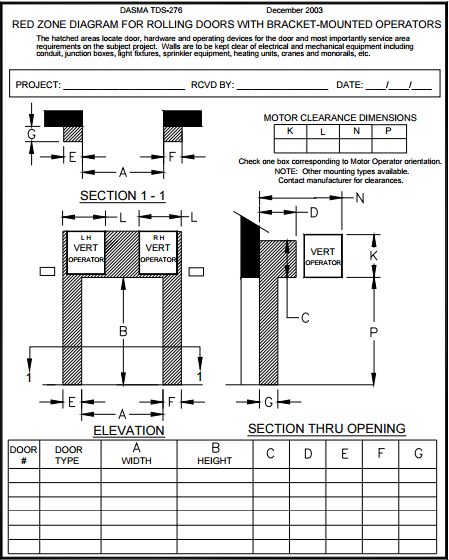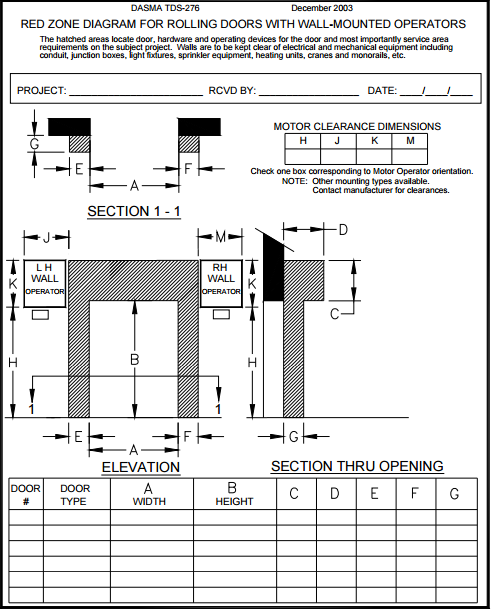 Credit: Dasma Technical Sheet #276
Overhead Door Company of The Meadowlands & NYC Rolling Door Service Photos: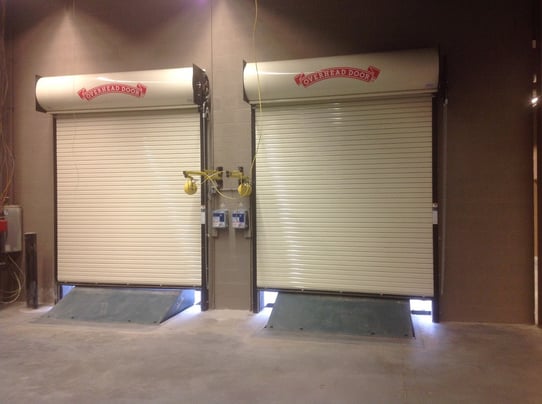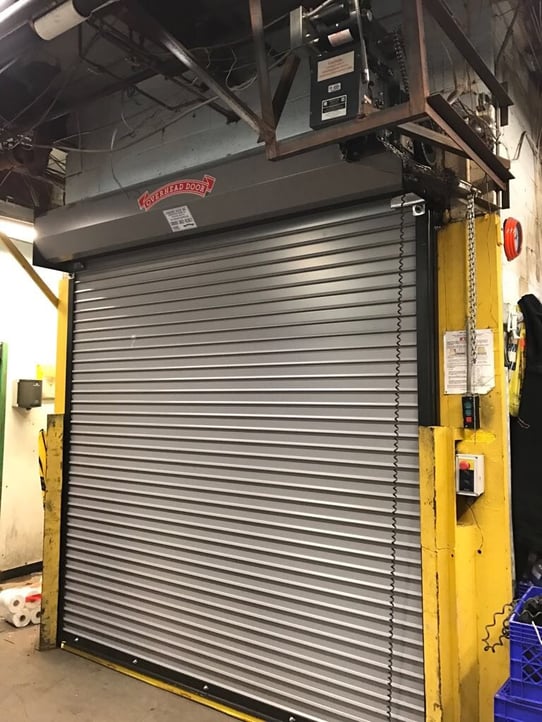 Get the best Rolling door service from the highly skilled technicians of Overhead Door Company of The Meadowlands & NYC. We provide quick response to your rolling door service request; installation repairs and maintenance.
For more information, please give us a call at 973-471-4060 or email us at: info@dockndoor.com
24 HR Emergency 1-201-273-7605
We service Northern New Jersey (Bergen, Passaic, Hudson, Union, Essex, Morris, Hudson, Hunterdon, Middlesex, Mercer and Somerset county/counties), Manhattan, New York City, Brooklyn, Queens, Staten Island, Bronx, Westchester and Rockland.