When your location includes a warehouse and loading dock, it's important to specify the best roll-up doors for use. When you are making an investment in the right roll-up doors, there is simply no room for compromise in your selection. The average roll-up door will have to endure heavy use, and you count on it to provide long and reliable service.
The basic function of your roll-up door is to provide easy access and reliable security. While there are some areas of your construction where the long-term reliability of a part is not a major concern, that is a primary requirement for any warehouse or loading dock door. The roll-up door is far more secure than the traditional garage-type door, as it is made to create a continuous wall of protection while taking up minimal overhead or side space.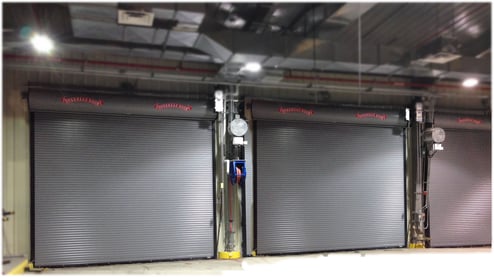 When you deal with the right vendor, you will find a wide range of types and options for your warehouse or loading dock door. Depending on your needs, you can select doors that provide:
- Insulated or uninsulated construction
- Construction of aluminum or steel
- Manual or motor-driven drives for opening and closing
In addition to the basic material of aluminum or steel, you will be able to choose from a number of different finishes and looks to fit your specific application. Also, these doors are customizable to a wide number of different opening sizes.
As well as choosing the right commercial or industrial rolling doors, you want to ensure it is installed by professionals. Just a tiny variance in proper installation specs can significantly impair the proper working of your roll-up door. When you turn to the highly experienced team at Overhead Door Company of The Meadowlands & NYC you not only get the best selection in the region, you can fully rely on their installation services.
To learn more about other options, check out our product catalog and choose the right commercial overhead door for your facility. Spend some time looking at the sectional doors, rolling steel doors, other industrial doors, and the accessories like commercial operators that you can find at the Overhead Door Company of The Meadowlands & NYC. You will appreciate not only our amazing selection but also the level of customer service and care you receive from our team of overhead door experts. You can also read other entries in our blog.

For more information, please give us a call at 973-471-4060 or email us at: info@dockndoor.com
We service Northern New Jersey, Manhattan, New York City, Brooklyn, Queens, Staten Island, Bronx, Westchester, and Rockland.

For 24-hour emergency service, please contact us at 973-471-4060.