No matter if you have a low traffic dock or a bustling hub of activity, there is always the risk of damage when a truck hits the building. Not only can it cause damage to the vehicle, but in the worst cases the building could sustain serious damage as well. One of the best ways to prevent this is with dock bumpers. In fact, dock bumpers can absorb around 80% of the impact force when there is trailer impact.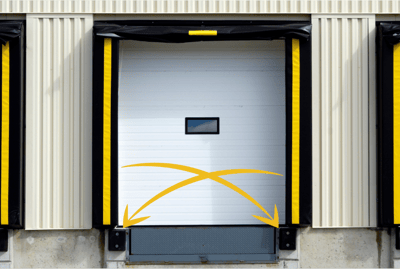 Rubber Dock Bumpers
Since these are such an important line of defense, it is important that you choose the right type for the job.

Types of Dock Bumpers:
- Laminated Dock Bumpers have a mid-range of wear capacity and have flexibility in thickness, length and height.
- Steel Faced Dock Bumpers have the greatest wear capabilities—up to four times the protection of a laminated bumper. You can make your decision based on how busy your dock is, or how likely it is that there would be a collision involving any type of trailer or loading dock equipment.
- Molded Dock Bumpers are the most attractive style, but they are easier to chip or gouge than other types of bumpers.

Laminated
Dock Bumpers


Rubber Dock Bumpers
(Molded)


Steel-Face
Dock Bumper

One problem that can occur in some spaces happens when the trailer height does not match up against the natural height of the bumpers on the loading dock. Here at The Overhead Door Company of the Meadowlands & NYC, we have a solution.
We can create custom raised dock bumpers that will prevent damage to the trucks and the building. If this is something that occurs on your dock, give us a call or contact us and let one of our experts come out and work to find the right solution for you.
Remember, whether you need simple molded dock bumpers or require a more complex solution like raised dock bumpers, we are here for you. We care about your building and equipment and are happy to go the extra mile to make certain we find a solution that works for you. Call and discuss your needs with one of our dedicated and knowledgeable staff members today.
For more information, please give us a call at 973-471-4060 or email us at info@dockndoor.com
For 24 hour emergency service, please contact us at 973-471-4060
We service Northern New Jersey (Bergen, Passaic, Hudson, Union, Essex, Morris, Hudson, Hunterdon, Middlesex, Mercer and Somerset county/counties), Manhattan, New York City, Brooklyn, Queens, Staten Island, Bronx, Westchester and Rockland.