Rolling steel doors are an extremely useful part of the dock and door system for many commercial and industrial organizations. These doors are great for security and easy to use too. Properly maintaining these doors requires teamwork between your own maintenance crew and an expert in commercial overhead doors. One of the best ways to determine what maintenance and repair work needs to be done and when is by better understanding the different parts of an overhead door system.
Some of the more noticeable parts of a rolling steel door include: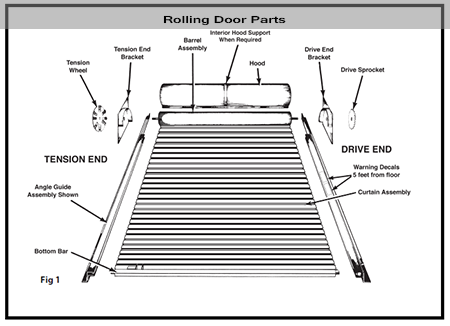 Curtain – This is the "door" itself—the steel curtain is what covers the majority of the space when the door is closed and it is tucked away when open.
Slats - Each of the individual section of the curtain is called a slat. These are connected in a way that they can make the door "roll up" when it is in an open position.
Springs – With a name like "rolling steel door," you may think that springs wouldn't be necessary. However, springs are one of the things that give the door tension and keep it open when it should be.
Counterbalance System – This is the physical part that helps the door open and remain open.
Seals – Seals are installed around all edges of the door to insure that temperatures stay as consistent as possible when the door is in the closed position.
Motor – Some of doors are motorized and as such have a mechanical system that allows you to open and close with just the press of a button.
If you have any questions about your rolling steel door system or any other style of dock or garage door, call or contact us at The Overhead Door Company of the Meadowlands. We have a team of experts that can work with you to repair, replace or maintain nearly any style of commercial doors on the market today. Don't put off your door dilemma another day; let us help!