Whatever application you may have for using overhead doors and roll-up doors, you'll find the expertise of the professionals at Overhead Door Company of The Meadowlands & NYC invaluable in making the right choice. We are known for our extensive inventory and ability to help you find just the right rolling door solution for your specific needs and budget.
All rolling doors provide the same basic functions of security and access while taking up a minimum of a side room and headroom. However, we have a wide selection of quality rolling roll-up doors that allow you to choose from the functions and features that provide exactly the performance your application requires. Additionally, we will assist you in tailoring your choice to provide reliability with the lowest lifetime ownership costs for your roll-up doors.

For example, the Stormtite™ AP Model 627 is just one of our 600 Series of advanced performance doors designed to meet high-demand requirements in multiple environments and applications.
The 627 Series Rolling Steel Door is designed and constructed to achieve thermal efficiency with its foamed-in-place, CFC, and HCFC-free polyurethane providing R-value 10.9 (1.91 W/m2)*; U-factor 0.84. This construction and a 20 psf wind load capability makes the Model 627 also capable of meeting and exceeding your expectations for:
✓ Reliability
✓ Durability
✓ Security
✓ Flexibility
✓ Sound performance (Sound Transmission Class (STC) rating of 28)
With a standard maximum width and height of 30'4" (9144 mm) by 19'4" (5893 mm), this overhead door is available in multiple finishes and other options.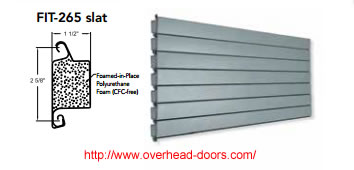 Regardless of your industry and application, you get turnkey service when you turn to Overhead Door Company of The Meadowlands & NYC for your rolling door needs. From design and selection to installation and ongoing service, your total satisfaction is our constant goal.
For more information, please give us a call at 973-471-4060 or email us at info@dockndoor.com
We service Northern New Jersey (Bergen, Passaic, Hudson, Union, Essex, Morris, Hudson, Hunterdon, Middlesex, Mercer and Somerset county/counties), Manhattan, New York City, Brooklyn, Queens, Staten Island, Bronx, Westchester and Rockland.