The main purposes of dock bumpers are to protect against impact damage of the truck bed when loading or unloading, to protect against up and down movement of the truck bed during loading/unloading, and to protect the dock and the vehicle from the impact of trailers being reversed loading or unloading in the dock
Loading dock bumpers absorb up to 90/95% of the impact of a backing truck striking the dock.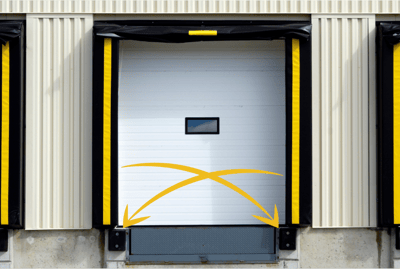 Loading Dock with Dock Bumpers
As bumpers limit how close the truck is parked to the dock, they affect the dock leveler lip, the dock shelter protections, or the dock seal.

At Overhead Door Company of the Meadowlands & NYC, we have a range of dock bumpers patented with materials to provide a much-improved performance.
The standard bumpers are 4 inches thick, but laminated dock bumpers are also available in 6 inches. Thicker dock bumpers may be required for recessed docks or special applications.


Types of Dock Bumpers


1. Molded Bumpers (Also Known as Rubber Bumpers)
Rubber dock bumpers (molded bumpers) are suitable for:
✓ Light traffic applications, where damage to walls or equipment could be an issue
✓ Interior walls from potential damage caused by forklifts or any other material handling equipment
As molded dock bumpers will not warp, harden, or rust, they are maintenance-free.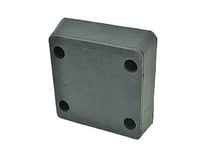 Rubber Dock Bumper

2. Laminated Bumpers
Laminated bumpers are suitable for:
✓ Low and medium traffic applications. These can guard against damage to buildings, loading docks, and cargo during loading/unloading vehicles and they are long-lasting (years).

The laminated dock bumpers are the industry standard and are well-suitable for most applications absorbing impact forces up to 80%. They are available in 4" or 6" and moreover, with lengths up to 36" long, although extra-length dock bumpers and extra-thick dock bumpers will also be available if you request some.
3. Steel Face Dock Bumpers
Steel-face dock bumpers are suitable for:
✓ Heavy-duty applications (high-frequency use), and where jockey trucks are used for truck positioning.
✓ Protecting against either the biting out of the rubber or the unusual wear.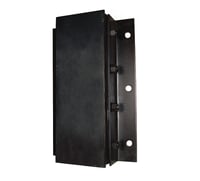 Steel-Face Dock Bumper
Not sure which dock bumper will work best for your loading dock? Talk to our experts. We also offer dock bumper repairs and replacements.

Schedule a service for your commercial overhead door and/or your loading dock equipment. Our team is ready to support you with your commercial and industrial needs.
For more information, please give us a call at 973-471-4060 or email us at info@loadingdock.com


---
What We Do:
We sell, install, repair, and maintain commercial doors, industrial doors, commercial door operators, and loading dock equipment.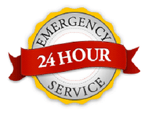 24-hr emergency service is available for our existing customers!

Areas we service Northern New Jersey (Bergen, Passaic, Hudson, Union, Essex, Morris, Hudson, Hunterdon, Middlesex, Mercer and Somerset county/counties), Manhattan, New York City, Brooklyn, Queens, Staten Island, Bronx, Westchester, and Rockland.