It's important to know your facility's needs in order to decide which commercial garage door will work best for you: commercial bifold doors or hydraulic garage doors. Each door offers something different and have specific advantages.
These are some of the things that must be considered when trying to decide between a hydraulic garage door or a commercial bifold garage door for your facility:


- Hydraulic Garage Doors:
1. Hydraulic Garage Doors Require Less Headroom
A hydraulic door is ideal as there is no loss of headroom.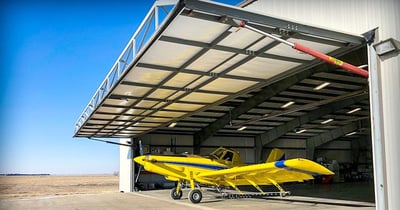 2. Extra Parking Space Is Needed
The hydraulic garage door acts as a large moving wall that swings outward when opening, requiring extra space as the door travels outward to the open position.
It is quite important to keep the doorway clear in order to avoid possible damage to equipment, vehicles, and airplanes when opening the door. By clearly marking the "No Parking Area" there will be minimal loss of valuable parking space in front of your hangar/warehouse/storage building/restaurant.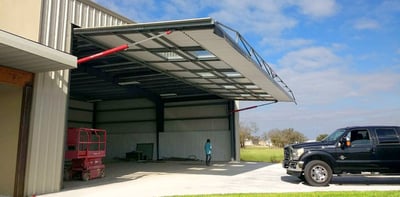 3. Water and Snow Can Build Up in Hydraulic Doors When Left Fully Open
When the commercial hydraulic door is in the fully open position, it lies flat 90°. As a consequence, water and snow can build up. It's important to make sure that this one-piece door has a slight downward slope when open to direct moisture and water off the door sheeting, to prevent water from seeping under the door sheeting and ruining the interior door insulation and moisture. You can always get external trusses (these are available and optional) or order your door with a built-in slope.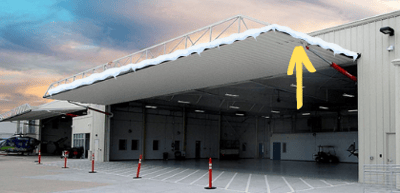 4. Hydraulic Garage Doors Cause More Stress on the Buildings than Bifold Doors
The building must be prepared to support the forces of your door in all positions. When hydraulic doors are fully open, these lay in a flat 90° position, which causes more stress on the building than bifold doors.


5. It's Best to Have Windows in the Door Frames
Adding windows in the door frames will help you prevent accidents by making any obstructions in front of the door visible to the operator before opening the door.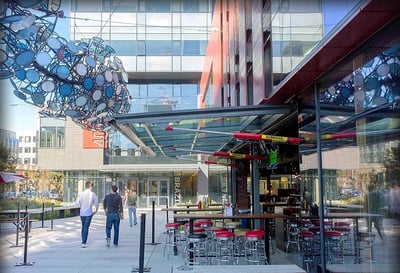 → Click here to see our Hydraulic Doors Photo Gallery ←

- Commercial Bifold Doors:
When thinking about installing a bifold garage door, these are the things that must be considered:
1. Less Headroom Is Required
There is no headroom lost inside the building, bifold doors mount up and above the clear opening on the outside of the building structure. The bifold doors lift up and out of the building.


2. No Extra Parking Space Is Needed
Two great advantages of bifold doors when opening:
✓ They start by raising upward not outward.
✓ They require less operating space in the front of your building.
The two pieces of the bifold doors allow more usable space in front of your door opening. These are real space savers.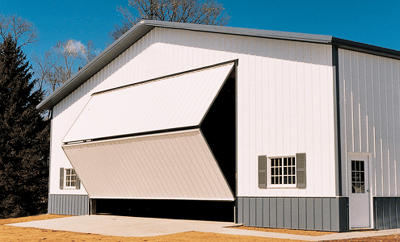 3. Bifold Doors Have a Natural Slope
The sheeting on bifold doors is flashed to allow water to easily drain off the door.
Bifold doors have a 1:12 natural slope when in the open position. Water and snow runoff in any position. Internal trusses are standard. No external truss is required on bifold doors.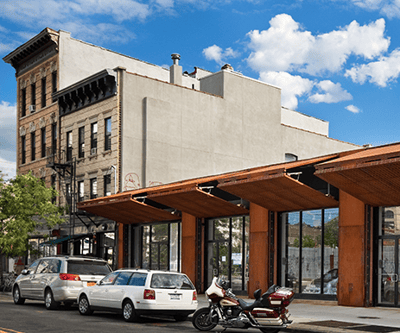 4. Less Stress on the Building
As mentioned before, hydraulic garage doors lay in a flat 90° position when fully open, which causes more stress on the building. Bifold doors don't lay in a flat 90° position, which means, these doors cause less stress on the buildings.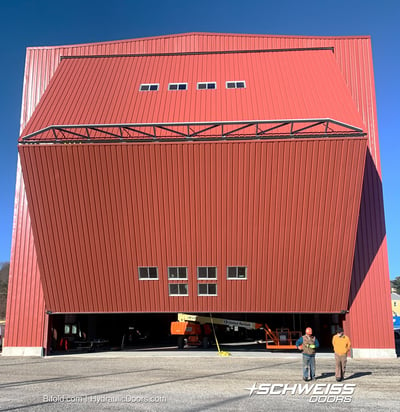 → Click here to see our Bifold Doors Photo Gallery ←
As you can see, each door has specific advantages. It's important to learn about your facility, your operation, and your needs in order to decide which will work best for you a commercial bifold door or a commercial hydraulic garage door.
At Overhead Door Company of the Meadowlands & NYC, we only work with the best manufacturers. For hydraulic and bifold doors, we work with Schweiss Doors who has a long history in the door world.
For more information, please give us a call at 973-471-4060 or email us at: info@dockndoor.com
For 24-hour emergency service, please contact us at 973-471-4060.
We service Northern New Jersey (Bergen, Passaic, Hudson, Union, Essex, Morris, Hudson, Hunterdon, Middlesex, Mercer and Somerset county/counties), Manhattan, New York City, Brooklyn, Queens, Staten Island, Bronx, Westchester and Rockland.