Overhead Door's M
ullion
System:

MetLife Stadium Case
The Overhead Door Company of The Meadowlands & NYC has had the honor of working on several interesting, yet challenging projects. One of the more unique locations is the home of our two hometown NFL teams--the Giants & Jets. MetLife Stadium in East Rutherford is an impressive structure that not only serves as a football stadium but is also used for concerts and other events.
There was one major problem with the stadium, however. It had no opening that was large enough to allow Monster trucks to drive into the facility. Monster truck rallies are huge events that attract big crowds, so being able to utilize the stadium for this purpose is a big deal! Luckily, those in charge decided to call us and see if we could help solve this problem.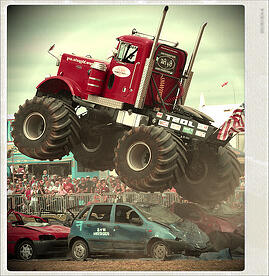 Previously, there was a situation where the current doors were neither tall enough nor wide enough to drive these massive vehicles into the stadium. Since the rallies are infrequent events, it was not possible to simply take out the adjacent doors, and no "out-of-the-box" solution was available.
Some creativity was needed in creating a custom solution for this situation. Essentially, we removed the two rolling doors that already existed and instead installed two individual 8' x 14' RSX rolling steel 625 series doors. In addition to the doors themselves, we installed an intermediate mullion. If both doors are placed in the up position, the mullion can be disengaged and rolled away to create the 16' x 14 openings needed for those large monster trucks.

While this was a custom solution, it was completed using Overhead Door Company parts. The only parts we fabricated ourselves were the steel floor plates to perfectly engage the cane bolts of the mullion. The powers-that-be at the stadium were very happy with the overhead door we created and we have since used this in other situations.
This video shows you how the installed Mullion System works:
This door is a simple, streamlined solution that opens up a number of possibilities for Metlife Stadium--including making it easier to bring in the sets and supplies needed for an event as large as the 2014 Super Bowl.
For more information, please give us a call at 973-471-4060 or email us at: info@dockndoor.com
For 24-hour emergency service, please contact us at 973-471-4060.