One of the reasons so many clients turn to the professionals at Overhead Door Company of The Meadowlands & NYC is our ability to help provide the right solution to meet your specific rolling door requirements. From functional counter doors to top-of-the-line Thermacore® sectional steel doors, we have the inventory and expertise to help you select the right sectional or roll-up door for any project and application.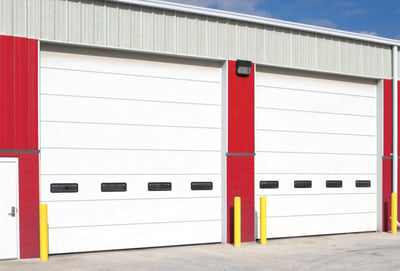 Thermacore® Door - Insulated, Heavy-Duty Sectional Steel Doors
Meeting Demanding Environments and Precise Specifications
While our overhead doors are designed and constructed to provide long-term durability and security, we understand there are situations that require that extra level of premium performance. If you require the best in thermal efficiency, air filtration control, and/or the ability to provide maximum load resistance, you require a Thermacore® door.
There is simply no finer insulated sectional door available today than the different models in the Thermacore® series. Each of the doors in the collection of Thermacore® sectional doors provides heavy-duty performance and exceptional thermal efficiency. However, each model provides special features and benefits to meet exacting requirements to provide maximum flexibility and functionality. Consider the capabilities of these three models:


- Thermacore® Door Model 591
Designed around the basic Thermacore polyurethane-steel panel concept, this unit is 1 5/8" (41 mm) thick and provides an R-value of 14.86 (2.63 W/m2), a U-value of .067 (.380 m2/W), and exceptional air infiltration ratings.
- Thermacore® Door Model 592:
This model steps up the thermal protection (an R-value of 17.5 (3.09 W/m2) a U-value of .057 (.324 m2/W)) with 2" (51 mm) thick, extra heavy-duty sections. The availability in standard sizes up to 40'2" and 32'1" (12,243 mm and 9,779 mm) allows this sectional door to offer a broad range of solutions.
- Thermacore® Door Model 599:
If your application requires the ability to meet environmental extremes of heat, cold or both, you'll want to evaluate this premium door. With a Class 26 sound transmission rating, you get superior sound suppression in addition to top-end air filtration and thermal efficiency ratings.
Let the team at Overhead Door Company of The Meadowlands & NYC show you why so many of our customers rank us as the five-star overhead door solution with unequaled selection, installation and maintenance.
For more information, please give us a call at 973-471-4060 or email us at: info@loadingdock.com
We service Northern New Jersey (Bergen, Passaic, Hudson, Union, Essex, Morris, Hudson, Hunterdon, Middlesex, Mercer and Somerset county/counties), Manhattan, New York City, Brooklyn, Queens, Staten Island, Bronx, Westchester and Rockland.