Your loading dock levelers are an essential part of your workflow, and it is vital to ensure you achieve maximum productivity while maintaining safe operation in your loading dock.
Deciding between a hydraulic, air-powered, and mechanical dock leveler is a long-term investment that can carry huge implications to your overall bottom line. Choosing the right leveler should be a clear and easy decision to help you improve productivity and safety at your loading dock.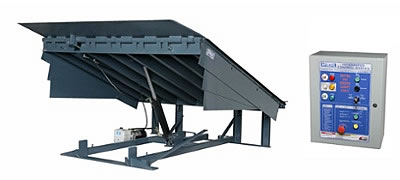 HP Series Hydraulic Dock Leveler by McGuire
The best dock leveler will check all the boxes:
✓ Fit your budget
✓ Provide years of operation
✓ Help prevent free-fall
✓ Manage heavy loads and bustling workflows
✓ Maintain a smooth transition from the floor to the trailer bed
✓ Facilitate future communication upgrades
✓ Help keep forklift drivers and engineers/operators safe
✓ Offer an exceptional product warranty with maintenance/repair/upgrade options
One of the most important additions to your loading dock is a properly designed and constructed dock leveler. We work only with the industry's leading providers of loading dock levelers and equipment, such as McGuire, Poweramp, Rite-Hite, and Kelley. These highly respected firms produce a wide range of loading dock levelers to fit every work environment and budget.
When you consider upgrading your own dock leveler, you may have questions about what type you should consider:
The difference between a hydraulic, an air-powered, and a mechanical dock leveler is obvious on the surface – the hydraulic and the air-powered levelers work automatically with the push of a button, while the mechanical leveler works manually.
---

Hydraulic Dock Levelers (Pit Levelers)


For Heavy Duty Applications
If your application includes demanding heavy-duty dock leveling with maximum flexibility, you are probably best served with a hydraulic dock leveler. These levelers work automatically with the push of a button.

Hydraulic Dock Leveler
Advantages to Using a Hydraulic Leveler System
- Fewer Injuries: Hydraulic levelers don't require pulling a chain or using the operator's body weight to position the bridge. This means your team won't be bending, reaching or "jumping".
- Smoother Operation: The hydraulic dock leveler will "adjust itself" as the trailer floats above and below dock height, ensuring a safe and smooth slope between the facility floor and the trailer bed.
- No Free-Falls: Built-in velocity fuse safeguards prevent the platform from free-falling in case of a hydraulic pressure loss.
Video: Hydraulic Dock Leveler Operation

---
Mechanical Dock Levelers (Pit Levelers)


Budget-Friendly Option | Ideal for Less Demanding Environments
This mechanical dock levelers design allows fingertip release pull chain activation with smooth reliable operation via a cam and roller counterbalance to assure smooth dependable walk down to trailer bed with below dock capability included. The hold-down design floats with air ride trailers and the full-width rear compression hinge is designed for superior strength.
Designed to meet your budget plus offer years of trouble-free service. It is made with safety, trouble-free service and your budget in mind. Another great advantage of the mechanical pit leveler is the minimal maintenance needed for low lifetime ownership costs.
Video: Mechanical Dock Leveler Operation
Although hydraulic dock levelers cost more than a mechanical dock leveler, according to Rite-Hite, the facility will spend 6 times more in overall maintenance expenses on a mechanical leveler over the 10-year life of the system. Regular maintenance will complement its sturdy platform construction.
One of the benefits of the Overhead Door turnkey approach to solving our customers' needs is assisting in such decisions. We will help you understand the various advantages and cost factors involved with each of your loading dock decisions, especially when it comes to loading dock levelers.
Contact us at Overhead Door Company of The Meadowlands & NYC for more information concerning your loading dock leveler or any other loading dock equipment needs.

For more information, give us a call at 973-471-4060 or email us at info@loadingdock.com

For 24-hr emergency service call 973-471-4060.
We service Northern New Jersey (Bergen, Passaic, Hudson, Union, Essex, Morris, Hudson, Hunterdon, Middlesex, Mercer and Somerset county/counties), Manhattan, New York City, Brooklyn, Queens, Staten Island, Bronx, Westchester and Rockland.