It is easy to think of a loading dock as a simple addition to any construction project. However, modern logistics make the loading dock an essential part of planning for keeping traffic flow running efficiently. In fact, you'll find a wealth of information and guidance from a number of sources.
The Power of the Details When Planning a Loading Dock
Take advantage of the expertise and knowledge of the professionals at Overhead Door Company of The Meadowlands & NYC. We supply the finest rolling overhead doors in the industry, and you'll find that we offer the latest in equipment, technology and capabilities to maximize the capabilities of any loading dock.
When you start with a guide written by our experts, you will approach your loading dock project with the proper process. As with most significant investments, proper planning is essential for any loading dock. This includes every aspect from how trucks will be loaded to what types of trucks are utilized to the traffic flow from the warehouse or manufacturing facility.

Dock Seals, Dock Levelers, Bumpers and Sectional Steel Door in Loading Dock


The planning process will help you balance a range of considerations such as safety regulations, equipment reliability and productivity. Due to the importance of installing proper loading dock levelers and the many different demands they must meet, there are a number of guidelines and standards you can follow to make your final results as effective as possible.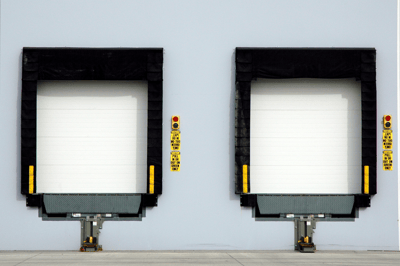 Dock Shelters, Truck Restraints, Light Communication Systems, and Dock Levelers
Once you have determined your best configuration and specifications, you will find it important to carefully select the best loading dock equipment for your project. This includes such items as dock levelers, dock seals or dock shelters, light communication systems, truck restraints, and bumpers. Careful evaluation will provide long-term benefits such as lower service and maintenance costs, in addition to superior reliability and uptime.
While the process of designing and installing your loading dock is a one-time investment, if done correctly it will pay dividends during daily operations for years to come.
For more information, please give us a call at 973-471-4060 or email us at info@dockndoor.com
For 24 hour emergency service, please contact us at 973-471-4060.
We service Northern New Jersey (Bergen, Passaic, Hudson, Union, Essex, Morris, Hudson, Hunterdon, Middlesex, Mercer and Somerset county/counties), Manhattan, New York City, Brooklyn, Queens, Staten Island, Bronx, Westchester and Rockland.