HP Series Hydraulic Dock Leveler (Pit Style)
By McGuire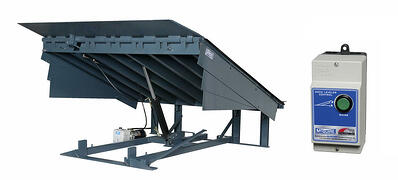 HP Series Hydraulic Dock Leveler (By McGuire)
The "HP" Series Hydraulic Dock Leveler manufactured by McGuire, is designed with dependability and toughness in mind for your medium to lighter duty applications. The "HP" offers the same easy push button smooth, consistent operation. Built in safety, durability and toughness. Easy clean out and servicing.
They are also most often mounted in a pre-formed pit at the dock commonly used to reduce the grade between the dock floor and the trailer bed. Various sizes and capacities allow for a large amount of flexibility. Hydraulic dock levelers have added safety features and save time in operation and maintenance.
They come in 6', 6'6" & 7' standard widths and 6', 8' & 10' standard lengths with 12' and other lengths available. Standard capacities are 25K, 30K, 35K and 40K CIR (Comparative Industry Rating).
Features:
- Structural Steel Frame
While some manufacturers use flat stock or other light duty material, McGuire uses 4" structural "C" channel on all pit levelers.
- Regenerative Hydraulic System
Dual port cylinders allow hydraulic fluid to travel in both directions, creating a faster lift. Dual ports are found on both lift and lip cylinders.
- Full Width Rear Hinge
McGuire is the only dock leveler manufacturer that employs a full width rear hinge mounted in compresssion, using a 1" diameter solid steel rod. So indestructable, it carries a lifetime warranty.
- Velocity Fuse Protection
McGuire uses a tamperproof velocity safety stop in all of our lift cylinders for safety in case of a sudden trailer departure.
- Full Range Telescoping Toe Guards
Provides top safety to your employees at the dock while operating any McGuire hydraulic dock leveler or air operated dock leveler. Assures any dock leveler with a downward bias inherent in operation has enhanced safety closures at the edges to protect your employees.
Sizes and Capacities: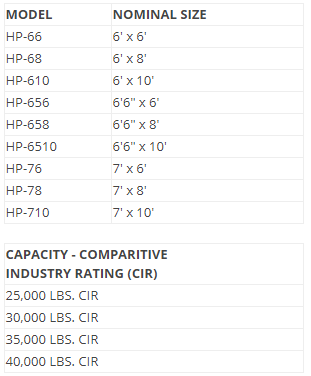 Additional Features:
- Easy push button operation control panel for smooth, consistent operation with a hydraulic system that provides for full float at all positions
- Positive lip extension and retraction with true regenerative hydraulic control
- Below dock end load capability with fully yieldable lip
- Full width rear hinge mounted in compression with structural channel support
- "C" channel heavy duty beam deck supports
- 4-way high tensile 50,000 minimum yield A572 safety tread plate for deck and lip
- Velocity fuse hydraulic fail safe stops platform within 1" to 3" in free fall situation
- Sub frame design allows for easy pit clean out
- Integral maintenance strut is lockout/tagout compliant
- Standard operable range of 12" above dock level and 12" below dock level
- Full range toe guards
- Made in the USA
Call the team at Overhead Door Company of The Meadowlands & NYC today to discuss affordable ways to add to your loading dock efficiency.
For more information, please give us a call at 973-471-4060 or email us at info@dockndoor.com
We service Northern New Jersey (Bergen, Passaic, Hudson, Union, Essex, Morris, Hudson, Hunterdon, Middlesex, Mercer and Somerset county/counties), Manhattan, New York City, Brooklyn, Queens, Staten Island, Bronx, Westchester and Rockland.