In this article, you will find the most common commercial and industrial garage door issues and the preventive steps you can take before your garage door needs a professional repair.

Though commercial and industrial garage doors are built to withstand heavy use and are constructed with heavy material to last long, these doors can still present issues to business owners.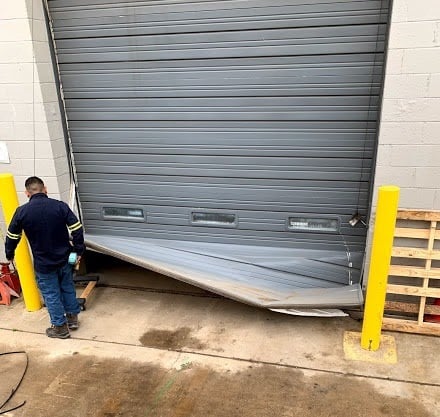 At Overhead Door Company of the Meadowlands & NYC, we're proud to offer preventive maintenance plans for loading docks and commercial doors for the food and beverage manufacturers, transportation facilities, healthcare, and pharmaceutical labs, residential buildings, and even waste facilities. Click here to learn more about the Industries that we serve.
Most Common Garage Door Issues
After 40+ years in serving NJ & NYC Metro Area, we can share the most common garage door issues for commercial and industrial doors.
1. Remote Control Issues
You should frequently check that the batteries are still working. If not, replaced them and reprogram the remote.
2. Old or Damaged Torsion Springs
As the garage door springs have extreme tension and help lift these heavy doors. If the spring snaps suddenly, there is a possibility that this can cause serious injuries, damages, and even causalities.
3. Worn or Damaged Rollers
Ask a garage door repair pro for service when you identify this issue. The solution will be: Aim to keep your rollers and their tracks free from debris and frequently inspect for wear and tear.
4. Worn or Damaged Cables
If you find that your cables are torsion or worn out, ask for professional service. You should inspect them regularly.
5. Damaged Sections or Panels
A new door will offer more warranty options than replacing damaged sections, though it can be a more economical solution when comparing both.
6. Improper Alignment
This issue also needs the assistance of a professional to be repaired when you find gaps between the rails or, bent curved metal.

Preventive Maintenance Plans for Commercial & Industrial Doors
The Overhead Door Company of the Meadowlands & NYC strongly recommends a regularly scheduled preventative maintenance plan for commercial overhead doors. Our preventative maintenance plans improve operational efficiency, safety, and reliability as our professional technicians will be able to identify the potential problems before they have a chance to occur.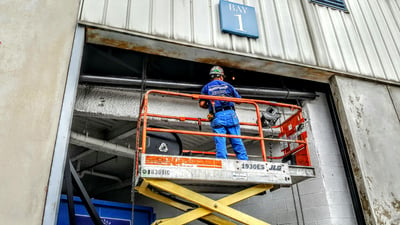 Need Some Help?

Our experts are ready to assist you in any way you need. We have 40+ years of experience working in a variety of commercial garage doors, and industrial garage doors such as rolling doors, counter doors, fire-rated doors, parking garage doors, metal and fabric high-speed and high-performance doors, bifold and hydraulic doors, and many more.
Call today at 973-471-4060 or email us at info@loadingdock.com it will be a pleasure to assist you.