Choosing the Best Loading Dock Lights
When choosing the best loading dock lights to protect your facility there are a few different key factors to keep in mind. To ensure that you are getting the proper dock lights at the best price follow these helpful tips.

Know your type:
The Folding Arm - With it's incredible design, construction and performance, the Tri Lie loading dock light offers flexibility at a great price. You can choose from a 40 inch or 60 inch extension to illuminate a greater area.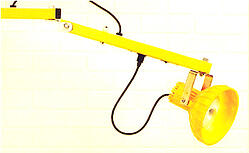 The Folding Arm - Loading Dock Light
The Double Strut - When looking for a stronger model that can hold in a horizontal position the Double Strut model is your best bet. This design features bronzed sintered barings for all rotating points, 1 1/2 inch 14 gauge square tubing that will easily prevent sagging and easily adjustable pivot friction to help hold any position. The safety-yellow finish on the lamp head and struts offer an extra level of protection as well.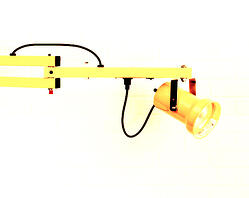 The Double Strut - Loading Dock Light
High Pressure Sodium - To get more light out of the same sources or to use fewer lamps to achieve a similar illumination, The Overhead Door Company offers all of our dock lights with a high pressure sodium head upgrade. These heads give you a whopping 500w of power and up to 24,000 hours of life with an energy usage of just 50w. You can easily conserve energy and save money all at the same time.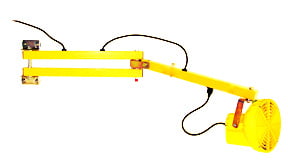 High-Pressure Sodium - Loading Dock Light
Fan Accessory - It's also a good idea to add the convenience of air cooling to intensely warm work areas on all DL series lights.
Fan Accessory for Loading Dock Lights

For all of your loading dock equipment needs you can count on The Overhead Door Company to provide the best options on the market at an unbeatable value. We offer equipment and services for help with loading dock maintenance, shipping dock lights, loading dock repair and much more.
For more information, please give us a call at 973-471-4060 or email us at: info@dockndoor.com
For 24 hour emergency service, please contact us at 800-362-6367.
We service Northern New Jersey (Bergen, Passaic, Hudson, Union, Essex, Morris, Hudson, Hunterdon, Middlesex, Mercer and Somerset county/counties), Manhattan, New York City, Brooklyn, Queens, Staten Island, Bronx, Westchester and Rockland.